Silicon Labs has introduced the TouchXpress™ family of fixed-function controllers, providing the fastest, easiest way to add low-power capacitive touch interfaces to embedded designs. Silicon Labs' robust CPT007B and CPT112S TouchXpress controllers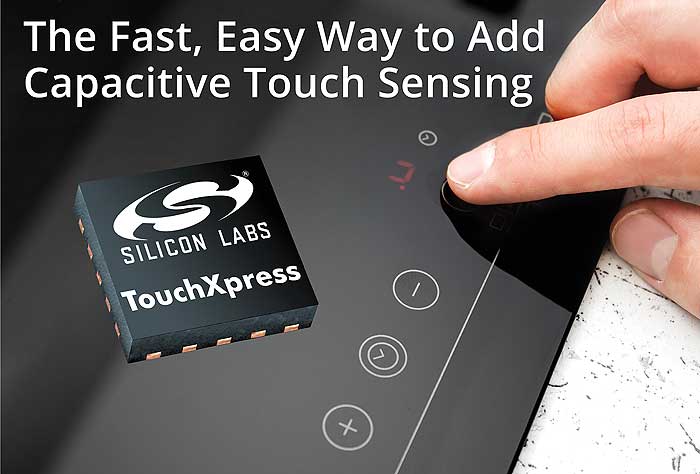 eliminate time-consuming firmware development, providing a simple turnkey solution for adding sleek, touch-based user interface designs to a wide range of products including home appliances, white goods, consumer electronics, lighting control, medical equipment and instrument/control panels. TouchXpress evaluation boards and advanced configuration and profiling software tools available within the Silicon Labs' Simplicity Studio environment enable embedded developers to get their capacitive touch applications up and running quickly and easily.
For additional TouchXpress product information and to order product samples and evaluation kits, visit www.silabs.com/TouchXpress.
Responding to the increasing demand for easily implemented capacitive sensing and touch functionality in embedded systems, Silicon Labs introduces two TouchXpress family members:
• The CPT007B GPIO switch replacement device enables developers to quickly replace up to 7 mechanical buttons with capacitive touch sensors with no firmware development. The GPIO interfaces provide direct on/off sensor status to the host processor.
• The CPT112S capacitive sense I2C device features up to 12 sensor inputs to simplify the addition of capacitive sense functionality for touch-based interfaces. The I2C interface provides an easy way to track the status of touch sensors, and an interrupt pin can wake the host processor from sleep after a proximity touch detection.
Both capacitive touch controllers support advanced features such as moisture immunity, wake-on proximity, touch time-out, mutually exclusive touch qualifier and buzzer feedback for an enhanced user experience. The CPT112S device also offers a slider control option.
Based on Silicon Labs' proven, patented capacitive sensing technology, the TouchXpress controllers provide best-in-class drop-in solutions that ease touch interface development for embedded designers of all skill levels. No firmware development, programming or capacitive sense expertise is needed to implement capacitive touch interfaces based on TouchXpress technology. No external components are required, and developers can easily configure and evaluate all capacitive sense parameters using Silicon Labs' simple, intuitive GUI-based Xpress Configurator and Capacitive Sense Profiler.
Silicon Labs
www.silabs.com