L2Tek, a manufacturers' representative and distributor of components and sub­assemblies for professional video and high­speed communications systems, has announced a family of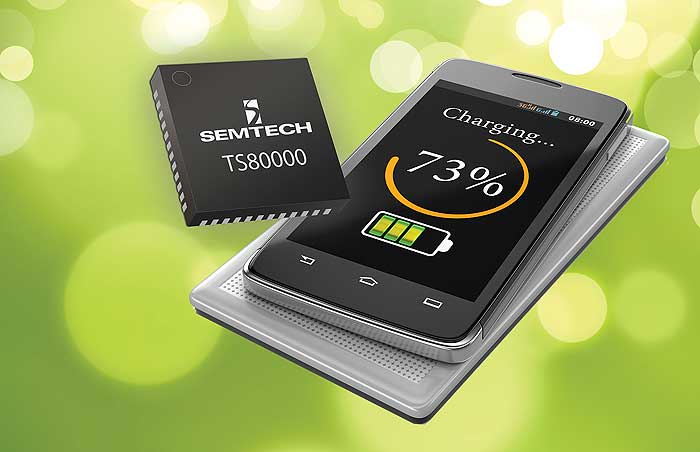 inductive power transmitter and receiver ICs from Semtech for wireless charging and power management. Previously branded Triune Systems before acquisition by Semtech, the Wireless Power Consortium (WPC) Qi® certified and Power Matters Alliance (PMA) compliant chips deliver high operating efficiency with low stand-by power consumption for applications including smartphones, tablets and GPS devices as well as other wearable, sensor and industrial electronics designs. Additional ICs supporting higher output power requirements are also available.
For low power wireless receiver applications up to 5W, Semtech's high-efficiency IC range includes the TS51221 regulator that has a switching frequency of 1MHz to enable the use of smaller filter components, which use less board space and reduce bill of material (BOM) costs. For wireless receiver applications up to 20W, the TS51111 synchronous rectifier features higher voltage inputs for higher output power as well as integrated switches and other components to minimise system BOM. Addressing the wireless transmitter side of the system, the TS61001 is a high-voltage field-effect transistor (FET) driver that can be used to drive N-channel devices in half and full-bridge configurations.
Supporting higher power outputs at up to 40W, the TS80000 is a Qi-compliant power transmitter communications and control unit that can be configured to drive single or multi-coil applications, in half and full-bridge systems. The device performs the necessary decode of packets from TS81000 wireless receiver communications and control unit to adjust the charging power level. An integrated PID filter provides the necessary compensation for the loop for high-precision control of duty cycle, frequency, and or bridge voltage. The TS81001 is an alternative wireless receiver communications and control unit that supports indirect single-cell battery charging applications down to 2V.
L2Tek
www.l2tek.co.uk