Today's vehicles are increasingly energy efficient. However, they also have more complex electronic demands placed on them as customers seek increased efficiency, safety, and convenience.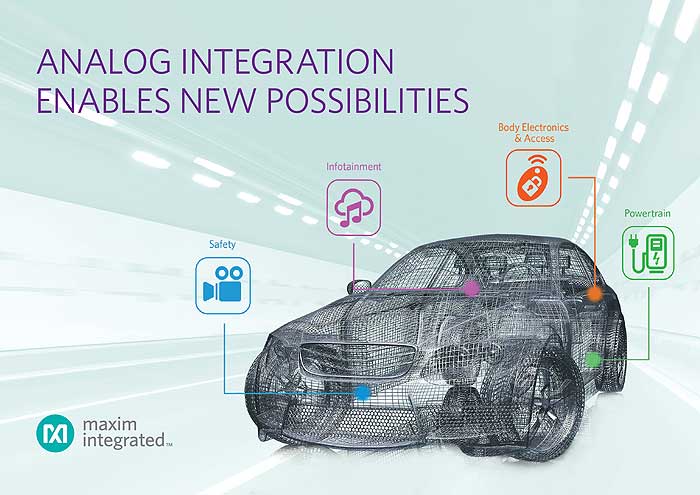 With expertise in integration benefiting customers and drivers alike, Maxim Integrated Products, Inc. has shipped its one billionth integrated circuit (IC) to the automotive market, ICs that enhance infotainment, safety, keyless access, and powertrain applications. Customers rely on these highly integrated products for automotive subsystems that are smaller and more reliable.
Maxim's automotive electronic products continue to be in high demand and represent the fastest-growing segment of the company's revenues. Currently representing 16 percent of the company's sales, automotive was about 5 percent of revenues in 2012. Maxim continues to grow revenues above the company average. Maxim will showcase some of its automotive solutions at the Consumer Electronics Show (CES) 2016:
• The MAX9286 gigabit multimedia serial link (GMSL) deserializer enables the design of surround-view systems for advanced driver assistance systems (ADAS) with fewer components and faster time to market. It receives and automatically synchronizes video from up to four cameras.
• The MAX16984 automotive DC-DC converter with USB charge emulator quickly and reliably charges any portable device over USB in a car with a single IC.
• The MAX2173 DAB RF to Bits® tuner for digital audio broadcast (DAB) applications enables software-defined radio (SDR) through its RF to Bits architecture. It saves space, lowers the bill of materials (BOM), and significantly increases system flexibility.
"The shipment of our one billionth automotive IC is an important milestone for Maxim," said Randall Wollschlager, Vice President of Automotive at Maxim Integrated. "Automotive electronics system designers are increasingly looking to us for leading edge solutions for vehicle access, safety, infotainment, and power control."
According to IHS, the automotive semiconductor market is one of the fastest growing semiconductor markets with a CAGR (14-19) of 5.6% compared to 2.3% for the overall semiconductor market. Based on IHS analysis, Maxim has grown faster than the overall automotive semiconductor market in the last three years with solid double-digit growth.
Maxim's automotive solutions meet the Automotive Safety Integrity Levels defined by ISO 26262, and are designed for a harsh operating environment while providing higher integration, high/low voltage protection, and a broad operating temperature range.
Maxim Integrated
www.maximintegrated.com