Microchip Technology Inc. applauded the Linux Foundation for presenting its vision of the automotive industry's future and the value of Automotive Grade Linux (AGL), in a session at the MOST® Cooperation's Interconnectivity Conference Asia 2015, which was recently held in Tokyo. During their presentation titled "How Open Source Collaboration Is Transforming the Automotive Industry," the Linux Foundation highlighted the importance of collaborating to build the car of the future. They further indicated that rapid innovation can be accomplished by leveraging Linux and other open-source standards, in conjunction with MOST technology, which enables seamless device networking within the AGL software platform.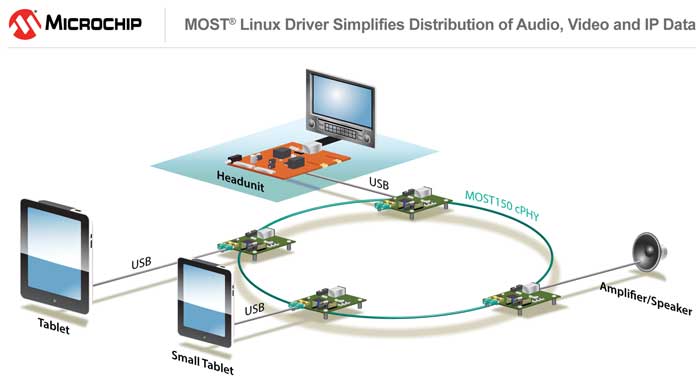 To download all of the slides shown during the 16th MOST Interconnectivity Conference Asia, including presentations given by Microchip and the Linux Foundation, please visit http://www.microchip.com/Presentations-120915a.
"We are excited to see the long-established MOST networking technology being easily accessed by automotive developers through standard Linux interfaces," said Dan Termer, vice president of Microchip's Automotive Information Systems Division. "The Linux Foundation's presentation at the MOST Interconnectivity Conference Asia showed how important Linux and Open Source software are for the automotive industry. As the leading provider of MOST technology, which is the de-facto standard for automotive infotainment networks, we are proud to be a part of that movement."
MOST technology is a time-division-multiplexing (TDM) network that transports different data types on separate channels at low latency and high quality-of-service. Because MOST devices can use standard Linux interfaces to communicate, Linux applications don't require specialized knowledge of the MOST network, making it easy to use MOST technology over Linux. This lowers costs and accelerates development via open-source software.
AGL provides a standardized open software, open operating system, and open application framework that allow automotive companies to customize their user electronics and create new business models of their choice, without depending on mobile-phone-platform systems. Native support for MOST networking technology in AGL and the inclusion of Microchip's open-source MOST Linux Driver in the Linux mainline kernel version 4.3, greatly simplify the development of feature-rich In-Vehicle Infotainment (IVI) systems that are popular with today's consumers. These developments were made possible by Microchip's close collaboration with the Linux Foundation. Additionally, Microchip has begun enabling designers to use the Linux operating system with its portfolio of MOST network interface controllers.
AGL is the only organization that plans to address IVI, instrument clusters, telematics, Heads-up Displays (HUD), control systems and Advanced Drive Assistance Systems (ADAS) – all of which are essential to the connected-car business landscape.

Microchip Technology
www.microchip.com/AGL-120915a