Renesas Electronics, a premier supplier of advanced semiconductor solutions, today unveiled the third-generation R-Car, an automotive computing platform solution for driving safety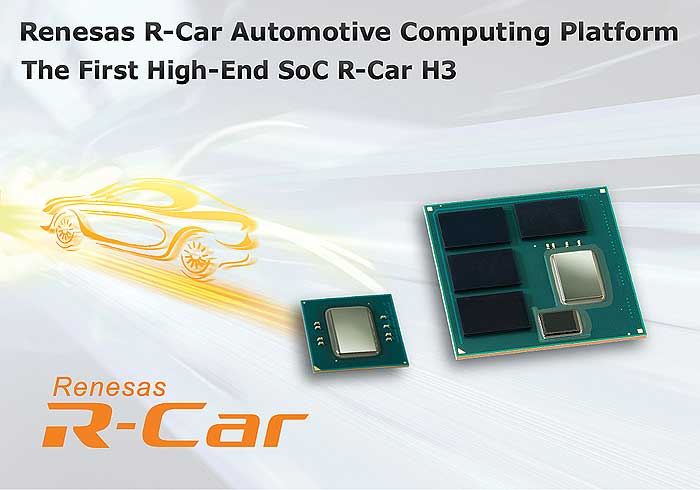 support systems and in-vehicle infotainment systems. The new R-Car H3 System-on-Chip (SoC), the first member of the third-generation R-Car, delivers CPU performance, image recognition processing, ISO 26262 (ASIL-B) compliance, and a system in package (SiP) with external memory to enable a wide range of automotive applications.
The R-Car H3 realizes powerful automotive computing performance exceeding that of the predecessor R-Car H2. This enables system manufacturers to utilize the new R-Car H3 as an automotive computing platform to play a key role in the autonomous-driving era.
To make the new device ideal for driving safety support systems, the R-Car H3 provides cognitive computing capabilities, an enhanced computing performance that can process large volumes of information from vehicle sensors accurately in real-time, and enables system manufacturers to run applications that require complex processing, such as obstacle detection, driver status recognition, hazard prediction, and hazard avoidance. To further accelerate the driving safety support systems, the R-Car H3 also conforms to the ISO 26262 (ASIL-B) functionality safety for automotive.
Furthermore, in in-vehicle infotainment systems, the need for connectivity between various systems and services such as smartphones and cloud services is growing. These have led to a significant increase in the volume of data transmitted from outside the system.
Renesas Electronics Europe
www.renesas.eu