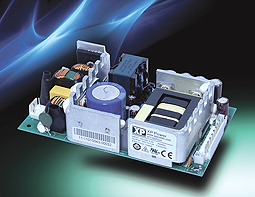 XP Power announced the VFT series of low cost 150W single output AC-DC power supplies aimed at high volume cost-sensitive applications. Packaged within the industry standard 3" × 5" format and measuring just 1.4" high (76.2 × 127.0 × 33.2mm), the VFT150 series can provide a full 150 W output when force-cooled with only 15 CFM airflow. Alternatively using convection cooling alone, the units can provide up to 100 W output.
The VFT150 operates from a universal input of 90-264VAC and has active power factor correction. Providing the nominal outputs of +5, +12, +15, + 24 or +48VDC, these units comply with XP Power's 'green power' limits by having a no load power consumption of less that 0.5W and average efficiency ranging from 83 – 90%, depending on the model. This helps designers ensure their end-products achieve internationally recognized environmental standards. A +12VDC, or +5VDC for 5VDC output models, auxiliary fan output is provided should forced-air cooling be required.
Despite being designed to meet the price-point expectations of high volume applications, the VTF series incorporates all the control and signalling features normally associated with fully featured models. This includes overvoltage, overload and short-circuit protection, tight load and line regulation together with a remote sense capability. The 12V model is also available with optional blocking diode by adding a –D suffix to the part number.
Accommodating the full universal input range of 90 – 264VAC, the series is able to deliver full power from – 10 degrees C to + 50°C, and with derating up to + 70°C.
The VFT150 series is available from Farnell or direct from XP Power.
XP Power Ltd
www.xppower.com