Keywords: Vehicle PC, Vehicle Computer, In Vehicle Computer, In Vehicle PC, Vehicle Mount Computer, Car PC, On board Computer, In-Vehicle Infotainment, Telematics Computer, Bus PC.
The Acrosser Technology In-Vehicle Computer has been awarded as the winner of "Taiwan Excellent 100 on ITS/Telematics". The event is held by the Telematics Promotion Office, the Ministry of Economic Affairs (MOEA) to showcase the amazing achievements of the Taiwan telematics industry. The event has selected 100 winning entries whose developments have been well-completed. Through the efforts of the panel of professional judges, 100 of the entries with outstanding technical capability and market potentials were particularly selected among several hundreds of the products and services.
In-Vehicle Computer – AR-V6002FL
Vehicle with integrated telematics technology have been widely used in fleet management, vehicle/trailer tracking, satellite navigation, mobile data, wireless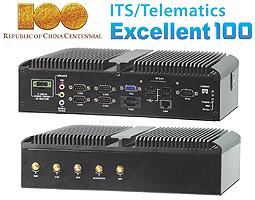 vehicle communication, vehicle safety warning system and intelligent vehicle. Acrosser's new In-Vehicle computer, AR-V6002FL, is designed with Intel Atom D425/D525 processor, intelligent power management, capability to operate in rugged environment of -20 to 50 degrees, standard vehicle certification of CE, FCC class B and E-Mark 13, integrated GPS/WiFi/ 3.5G/Bluetooth wireless communication module, CAN BUS data transmission protocol, and can withstand shock and vibration up to 2G follow IEC60068, which allow system integrators to implement the accessories to fulfill vehicle application.
In-Vehicle Computer – AR-V5403FL
AR-V5403FL is based on the Intel Core 2 Duo ~ Celeron CPU to satisfy diversified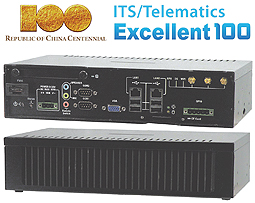 applications. Intel Core 2 Duo ~ Celeron CPU to satisfy diversified applications. Moreover, it is designed by fanless and w/o any venting holes to avoid defected fan or leaking water. By our team member verification, we provide superior quality and reliable products.
AR-V5403FL integrates GPS, WiFi, Blue Tooth and 3.5G/GRPS. System Integrators can develop H/W and S/W to analyze driving status and take action in advance and improve the safety. Acrosser also develops smart power mgmt and UPS system to protect car battery and avoid in-vehicle system data loss.
CAN bus, SRAM, Digital I/O PCI-104 Module – AR-B104D
CAN bus and Non-Volatile memory are two important functions in the telematics computer applications. But, these two functions are rarely integrated in the industrial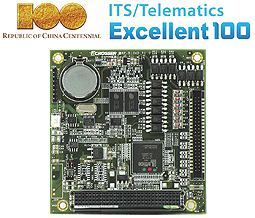 computers because of they usually are not standard function in the PC chipsets. The AR-B104D is a PCI-104 standard module which integrated on CAN bus interface, 1 MB battery backup SRAM and digital inputs/outputs. PCI-104 is a standard and rugged interface in many industrial computers. AR-B104D provides the telematics system integrator a solution for the in-vehicle computer which is lake of these functions. Applications can use CAN bus to send and access all of useful data to and from all devices connected to CAN bus in the vehicle. Applications also need high speed memory to store critical data which shall not be lost especially when electrical power is lost in a sudden.
http://global.acrosser.com