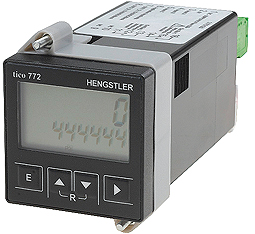 Since October 2010 Transfer Multisort Elektronik has become an authorized distributor of German Hengstler GmBH company which is a leading manufacturer of industrial automatics components, such as counters, encoders, temperature controllers and relays.
The range of products of TME has been enriched by a set of new Tico 772 series counters HENG-077…
Tico series counters are universal impulse counters which can be used as:
• Impulse counter;
• Tachometer;
• Variables counter;
• Timer;
• Totalizing or subtracting counter.
This equipment is available in various options:
• 1 or 2 relay output with the load capa­city of max. 5A/250Vac;
• power supply: 12-30Vdc; 24Vac; 115Vac; 230Vac;
• 2 segment LCD display with or without highlight.
This product family also consists of versions with high-contrast display (black digits on white background).
Each model features:
• dimensions 48 × 48 × 110mm;
• 2 NPN or PNP inputs (to choose from);
• max. input signal frequency of 60kHz;
• prescaling option 0,001 – 99,9999;
• memory back-up (values and settings) > 10 years
• 2 customized alarm outputs;
• input impulse duration: 0,01s – 599,99s;
• possibility of manual erasing from keyboard, impulse or automatically (from program settings);
• power consumption < 5W; • models supplied with AC voltage have 12-24VDC/50mA output; • control inputs: Reset and Gate; • counting and setting range: -999999 to +999999; • panel mounting hole 45 × 45 mm. Tico series counters are multifunctional and simple to handle, which in connection with their low price (compared to the competition), makes them an attractive and worth recommending equipment. Transfer Multisort Elektronik
www.tme.eu