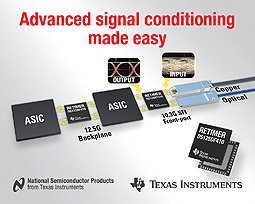 Texas Instruments Incorporated (TI) introduced 10 signal conditioners designed to drive high-speed interface standards such as 10G/40G/100G Ethernet, 10G-KR (802.3ap), InfiniBand, Fibre Channel and CPRI. The new integrated circuits (ICs) join a comprehensive family of repeaters and retimers that combat signal impairments caused by insertion loss, jitter, reflections and crosstalk in high-speed enterprise servers, routers and switches. Manufactured using TI's high-performance BiCMOS SiGe process technology, these new signal conditioners deliver the industry's highest signal reach performance at less than 6-mW per gigabit. For more information on these products, and to learn about TI's signal conditioning technology up to 28G, visit www.ti.com/sigcon-pr.
"As transmission rates increase, signal integrity requirements become more stringent," said Linley Group Senior Analyst Jag Bolaria. "Highly integrated ASIC and ASSP solutions with shrinking transistor geometries, lower voltage rails and lower output voltages further compound the problem, making systems more susceptible to random jitter and crosstalk interference. TI's new retimer and repeater products resolve these complex signal integrity impairments while consuming low power."
Key features and benefits of the DS1xxDF410, DS1xxRT410 and DS100KRxxx families:
• Extend reach to exceed 50+ inches of FR-4 backplane or 20 meters of 26-AWG copper cable
o 36-dB input EQ and 12-dB output de-emphasis (DE).
o Multi-tap decision feedback equalizer (DFE).
o Clock and data recovery (CDR) with internal clock synthesis.
o Repeaters consume 65-mW per channel; retimers with CDR consume 150-mW per channel.
• Reduce bill of materials (BOM) cost and simplify system design
o Fully adaptive EQ simplifies link tuning.
o Internal clock synthesis avoids the need for an external reference clock.
o Built-in eye monitor and PRBS generator simplifies system debug.
o Single power supply without the need for external RF chokes.
These signal conditioners are used to drive optical and direct-attach passive copper cables in latency-sensitive, front-port line cards, while meeting SFF8431 (SFP+) specifications. They also can be used to compensate for loss and crosstalk in backplanes, and reduce gauge thickness in active copper cable assemblies. Offered as a pin-compatible IC family, system designers can choose from repeaters (EQ and DE driver), retimers (EQ, CDR and DE driver), and advanced retimers (EQ, CDR, DFE and DE driver) to achieve the desired link performance and system cost without having to redesign their board:
• The DS125DF410 (9.8G to 12.5G), DS110DF410 (8.5G to 11.3G) and DS100DF410 (10.3G) multi-rate quad-channel advanc ed retimers provide multi-tap DFE, adaptive EQ, CDR, and DE driver.
• The DS125RT410 (9.8G to 12.5G), DS110RT410 (8. 5G to 11.3G) and DS100RT410 (10.3G) multi-rate quad-channel retimers provide adaptive EQ, CDR, and DE driver.
• The DS100KR800 octal-channel (unidirectional) and DS100KR401 octal-channel (bidirectional) repeaters support x4/x8 10G-KR (802.3ap) connectivity, and seamlessly allow end-to-end transmit equalization negotiation between the host controller and endpoint as specified by the 802.3ap standard.
To support redundancy and fail-over applications, TI offers new 10.3G and 14.2G mux/buffers that support two- and four-port switching capability. Both devices support 10G-KR transmit link training.
• The DS100MB203 multi-rate, dual lane 2:1/1:2 mux/buffer provides EQ and DE and supports data rates up to 10.3G.
• The SN65LVCP1148 quad-lane 2:1/1:2 mux/buffer provides a linear EQ and supports data rates up to 14.2G.
TI also offers the TLK10002 10G multi-rate transceiver, LMK03806 clock generator, and SIMPLE SWITCHERs and temperature sensors to complement the signal conditioners in a system.
Texas Instruments
www.ti.com