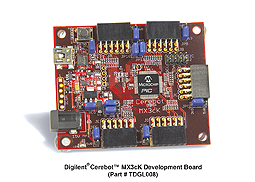 Microchip Technology Inc., a leading provider of microcontroller, analog and Flash-IP solutions, and Digilent®, Inc. announced several new 32-bit PIC32 microcontroller (MCU)-based Cerebot™ development boards with prototyping capabilities for the Arduino™ compatible chipKIT™ development platform. The Cerebot™ MX3cK, Cerebot MX4cK and Cerebot MX7cK (MX3/4/7) boards provide a single, general-purpose development platform for users to develop a wide range of 32-bit MCU applications using the free, Arduino-compatible chipKIT IDE—called the Multi-Platform IDE, or "MPIDE." Users can later migrate to development tools that are more widely recognized in the industry, such as Microchip's MPLAB® X IDE and MPLAB C Compiler for PIC32 MCUs. The Cerebot MX3/4/7 boards break free from the traditional Arduino form factor, providing flexible pin access and connectivity with Digilent's line of Pmod™ Peripheral Modules.
Click here to watch a video (feel free to embed on your site): http://www.microchip.com/get/EM32
Introduced in May 2011, the PIC32 MCU-based chipKIT Uno32™ and Max32™ boards enable hobbyists and academics to easily and inexpensively add electronics to their projects, even if they don't have an engineering background. The new Cerebot "cK" development boards include hardware that enables connectivity to the MPIDE, so users can develop with chipKIT via a bootloader application. Microchip's PICkit™ 3 debugger/programmer can be used with the Cerebot MX3cK. The Cerebot MX4cK, and MX7cK, boards feature an integrated programmer/debugger. These boards are each populated with multiple connectors for Digilent's numerous Pmod™ I/O interface boards, which provide ready-made interface circuitry for LCD, wireless, motor-control, sensor and many other applications, minimizing the need for users to create original circuitry.
"These tools demonstrate our joint commitment to provide products that make it easy for new embedded users or experienced designers interested in using Microchip's products," said Mitch Little, vice president of worldwide sales and applications with Microchip Technology Inc. "Great attention has been given to these new Cerebot boards, in order to deliver a robust, forgiving design environment that is perfect for academics and hobbyists, at a cost-effective price point."
"Students and hobbyists comfortable with Arduino can apply those skills directly to our Cerebot 'cK' line, and can quickly and easily enhance their designs on the robust hardware," said Clint Cole, president of Digilent, Inc. "Our chipKIT-compatible Cerebot 'cK' boards enable students, hobbyists and experienced designers to easily create systems with added functionality, power and expandability."
The MPIDE makes it easy for new developers to introduce their own chipKIT-compatible boards. The MPIDE includes libraries, such as Brian Schmalz's SoftPWMServo library, which enables users to generate an analogWrite-style output, as well as an RC Servo output, on all pins simultaneously.
Microchip Technology Inc.
www.microchip.com/get/5QRS