To address the growing market for high voltage DC battery powered systems and renewable energy applications, Omron Electronic Components Europe (OCB-EU) has added an efficient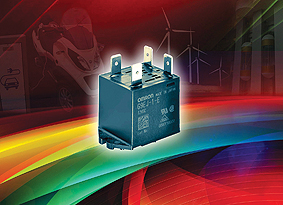 new DC power relay suitable for bicycle and scooter charging stations, UPSs, battery management systems, elevators, industrial robots, solar / wind generation systems and other applications. The new Omron G9EJ-1-E is capable of interrupting 15A at 400VDC yet draws only 1.2W while switching. In order to allow the relay to interrupt high currents without the contacts deteriorating, the device features a proprietary high efficiency magnetic circuit that suppresses arcing. The G9EJ-1-E also benefits from Omron's proprietary contact driving system, which improves inrush current withstand performance and enhances component life.
Sized at just 31mm × 27mm × 44mm, the new relay weighs just 50g and offers a compact, efficient solution for switching in high voltage DC powered systems. Features include a high insulation of 1000 MegaOhms between contacts and a sealed housing. A wide contact gap gives a high dielectric strength of 2500 VAC. The mounting brackets allow the application designer to secure the relay in any position. The relay is supplied with spade terminals allowing quick connection with industry standard connectors. The relay carries UL/CSA and VDE approval to support international applications.
Omron
http://components.omron.eu