Toshiba Electronics Europe (TEE) has introduced a new addition to its TX04 series of ARM® Cortex®-M4F core-based microcontrollers (MCUs). The TMPM411F20XBG MCU facilitates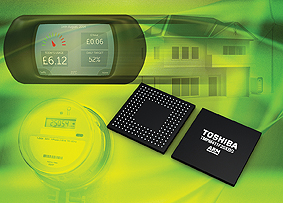 electric power calculation and communication in smart meters, as well as sensing and communications in other measurement devices. A typical smart meter comprises separate controllers for electric power calculation, data communication, and output display. By integrating multiple functionalities, the TMPM411F20XBG achieves independent control of the electric power calculation and communication control in a single chip, reducing the circuit board area within the smart meter.
According to market research firm IBISWorld, smart meter manufacturing industry revenue has swelled over the past five years. In 2014 alone, the US smart meter industry is expected to grow 17.7 percent, reaching $1.5 billion overall.
Toshiba Electronics Europe
www.toshiba-components.com