EP&Dee and Microchip are offering readers the chance to win the Microstick development board for dsPIC33F and PIC24H (P/N DM330013).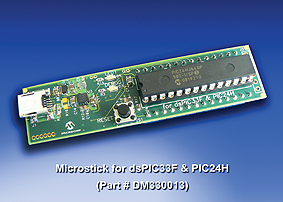 The Microstick for dsPIC33F and PIC24H devices is designed to provide an easy to use, economical development environment for 16-bit digital signal controllers and microcontrollers, in a compact 20×76 mm footprint. The board includes an integrated debugger/programmer, a socket for the device under test and pins that facilitate insertion into a prototyping board for extremely flexible development.
At the low cost of $24.99, the Microstick offers an integrated USB programmer/debugger, which shortens learning curves. For maximum flexibility, the Microstick can be used stand-alone or plugged into a prototyping board.
Software support includes the same free MPLAB® IDE and software libraries that work with all of Microchip's 8/16/32-bit PIC® microcontrollers and DSCs. Additionally, the dsPIC33F DSCs are supported by the free demo version of Microchip's Device Blocksets for the MATLAB® language and Simulink® environment, which work seamlessly within the MPLAB IDE. This combination of low-cost tools and free software provides an industry-leading platform for experimentation and development of smart-sensor and a host of other embedded-control applications.
For the chance to win a Microstick development board, please visit: www.microchip-comps.com/epdee-mstk
and enter your details in the online entry form.