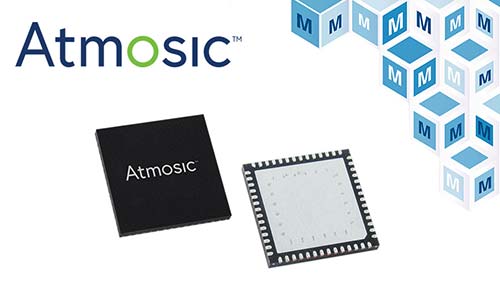 Mouser Electronics, Inc., the industry's leading New Product Introduction (NPI) distributor with the widest selection of semiconductors and electronic components™, announces a distribution agreement with Atmosic Technologies, a leading manufacturer of ultra-low-power wireless solutions for Internet of Things (IoT) applications. According to the agreement, Mouser will offer customers Atmosic's range of high-performance Bluetooth® 5 Systems-on-Chip (SoCs). Atmosic's exceptional low-power SoCs support a range of applications, including industrial asset-tracking solutions, sensors, medical devices, personal wearables, and automotive accessories.
The ATM32x1 SoCs from Atmosic combine a Bluetooth 5-compliant radio with an Arm® Cortex® M0 application processor. These devices support operation from a variety of energy harvesting sources, including RF, photovoltaic, thermoelectric generator (TEG), and motion. The ATM32x1 devices also support innovative wake-up mechanisms to enable further reduction in power consumption. The ATM22x1 Bluetooth 5 SoCs offers many of the same advanced power management features, but does not include energy harvesting. These high-performance, low-power SoCs are designed to extend the battery life of IoT devices, as low-duty cycle operation support allows IoT systems to run longer without battery replacement. Both the ATM32x1 and ATM 22×1 feature 256 K ROM, making them ideal for super high-volume applications, They also have a an external Flash interface for applications that require additional external Flash support.
The ATM3202 Bluetooth 5 SoC is an extremely low-power solution in a 40-pin 5mm2 QFN package. Featuring sophisticated power management and energy harvesting, the ATM3202 SoC provides exceptional performance for home automation, remote control and asset tracking applications. The ATM2202 Bluetooth 5 SoC boasts a fully integrated RF front-end and I2C, SPI, UART, PWM, and GPIO interfaces. The SoC also features a sensor hub, a true random number generator (TRNG) and a digital microphone input (PDM). Both the ATM3202 and ATM 2202 feature embedded Flash, ideal for applications looking for the flexibility available through Flash but have size constraints that don't allow for external Flash.
To learn more about low-power SoCs from Atmosic, visit https://www.mouser.com/manufacturer/atmosic/.