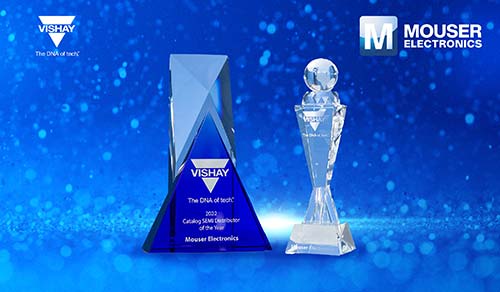 Mouser Electronics, Inc., the authorized global distributor with the newest semiconductors and electronic components, has been awarded the 2022 High-Service (Catalogue) Distributor of the Year EMEA from Vishay Intertechnology, Inc. Vishay, one of the world's most trusted manufacturers of electronic components, presented the award to the Mouser team at its annual awards event in Munich.
The award is based on a rigorous system where points are given for performance in a number of key metrics. Mouser was selected as the winner based on its level of contribution to Vishay's European revenue, growth and customer count during the 2022 period.
"It was an honor to present Mouser with our 2022 Catalogue Distributor of the Year award today in Munich. With this recognition we would like to congratulate the entire Mouser team for their outstanding performance in the EMEA region," said Philippe Masson, Senior Director, Distribution Sales EMEA for Vishay. "Your partnership has enabled engineers to design more Vishay components into their future applications. With your help, we're confident that we can continue to support the growth of our mutual customers."
"We are delighted to receive this award from Vishay and would like to thank the entire Vishay team for their support and partnership," said Marie-Pierre Ducharme, Vice President, EMEA Supplier Marketing and Business Development at Mouser Electronics. "This achievement is a testament to our outstanding partnership in the EMEA region, as well as all the hard work by our team members. We look forward to continued success in years to come."
Over the last decade, Mouser has received a long list of awards from Vishay. Most recently, Mouser was named 2022 Americas High Service Distributor of the Year (DoY) and the 2022 Americas Semiconductors High Service DoY. Previously, Mouser received the 2021 High Service DoY, 2021 Semiconductor High Service DoY, and the 2020 and 2019 Americas Passives High Service DoY, 2018 High Service DoY and Semiconductor High Service DoY, 2017 Semiconductor High Service DoY, and 2015 North American High Service DoY. Mouser's Europe team has received the High Service DoY for Europe Award 2013 through 2016, 2018, 2019 and 2021.
With over 60,000 Vishay products in stock, Mouser offers an ever-widening selection of the manufacturer's newest products, from discrete semiconductors — including diodes and rectifiers, MOSFETs, ICs and optoelectronics — to passive electronic components such as resistors, sensors, inductors, and capacitors.
To learn more, visit https://www.mouser.com/manufacturer/vishay/.