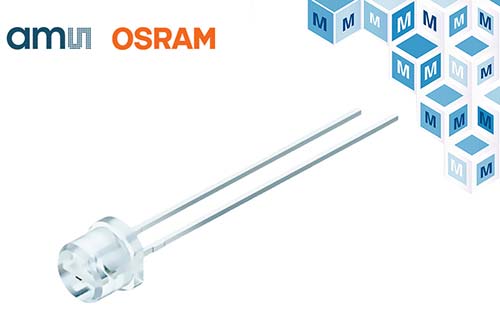 Mouser Electronics, Inc., the industry's leading New Product Introduction (NPI) distributor with the widest selection of semiconductors and electronic components™, is now stocking the SPL PL90AT03 laser diode from ams OSRAM. The SPL PL90AT03 laser diode delivers 75 W of peak power and a narrow 110 µm aperture, offering exceptional performance for 3D sensing, Lidar and time-of-flight applications. The laser diode is a cost-effective choice for applications including factory automation, robotics, security and access control, and appliances and tools.
The ams OSRAM SPL PL90AT03 radial T1 3/4 laser diode, available at Mouser, is an ideal choice for short laser pulses from 1 ns to 100 ns. The single-channel diode features ams OSRAM's multi-junction technology, which boasts three vertically stacked emitters in a single laser die. This multi-junction solution allows the laser to produce an optical peak output power of 75 W in a 30 ns pulse at the device's maximum forward current of 25 A.
The SPL PL90AT03 laser diode is housed in a cost-effective plastic package, making it an ideal choice for high-volume applications. The device features a peak wavelength of 905 nm and a spectral bandwidth of 5nm. The SPL PL90AT03 supports efficient beam shaping with a beam divergence of 12° (parallel) x 25° (perpendicular).
The high optical power output in a narrow emission area makes the SPL PL90AT03 suitable for ranging and distance-measurement applications that operate over long distances, such as robots, drones, smart home and factory automation equipment. In time-of-flight sensing and LiDAR applications, the high performance of the SPL PL90AT03 enables the production of more precise and accurate depth maps for 3D optical sensing and simultaneous localization and mapping (SLAM) systems.
To learn more about the SPL PL90AT03 laser diode, visit https://www.mouser.com/new/ams-osram/ams-osram-spl-pl90at03-diode/.