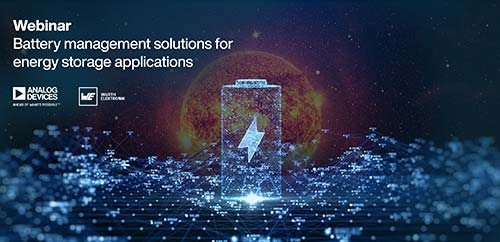 Mouser Electronics, Inc., the industry's leading New Product Introduction (NPI) distributor with the widest selection of semiconductors and electronic components™, has teamed up with Analog Devices (ADI) and Würth Elektronik to offer the engineering community a new webinar called "Battery Management Solutions for Energy Storage Applications". The free webinar will be streamed live at 3pm CET on Tuesday 10th October 2023.
The growing demand for energy storage systems (ESS) for residential, commercial and utility-scale applications is being driven by the shift away from fossil fuels in favour of renewable energy generation. This webinar will explore a variety of solutions for ESS, including the implementation of battery management solutions (BMS) and practical design considerations for higher isolation requirements.
By attending this webinar, participants will learn more about:
Battery management solutions for residential and Utility Scale Energy storage systems
Accurate monitoring solutions for maximum usable battery capacity and longevity
Ensuring safe and reliable operations through optimal isolation and circuit protection
How featured products can help solve common ESS design challenges. These will include:
The LTC6820 isoSPI Transceiver from ADI, which provides bidirectional Serial Peripheral Interface (SPI) communications between two isolated devices through a single twisted-pair connection. This product is included within ADI's system-level portfolio for BMS comprising of sensing, processing, and communication solutions.
The MAX17851 SPI to UART Safety Monitoring Bridge from ADI, which is also part of ADI's system-level portfolio for BMS. This product can bridge isolation barriers in single and dual daisy-chain system architectures to achieve effective isolation for up to hundreds of volts.
Transformers for battery management systems from Würth Elektronik. These transformers can be used to filter and control noise and electrically isolate electronic signals for safe and reliable battery management systems.
WE-PPTI push-pull transformers from Würth Elektronik, designed in a small form factor that offers high performance and high isolation voltage, along with low-noise, low-EMI drivers for isolated power supplies in small packages.
WE-CNSW High Frequency Common Mode Line Filters from Würth Elektronik. These filters are SMD inductors offering high common-mode suppression at high frequencies.
The webinar will be hosted by Mark Patrick, Head of Technical Marketing, EMEA at Mouser Electronics. Guest speakers include Nigel David Brooke, Senior Product Marketing Manager Energy Storage Systems at ADI and Martin Leihenseder, Technical Lead Signals & Communication at Würth Elektronik.
To register for this free webinar, visit https://emea.info.mouser.com/webinar-adiwe-batterymanagement-emea-lp.