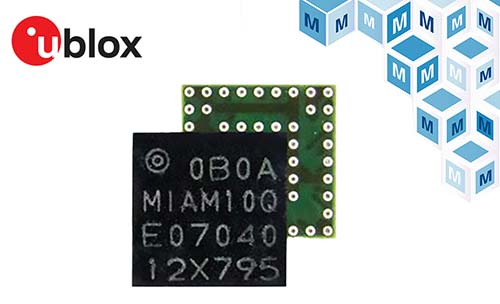 Mouser Electronics, Inc., the authorized global distributor with the newest electronic components and industrial automation products, now stocks the MIA-M10 GNSS System-in-Package (SiP) modules from u-blox. The ultra-low-power MIA-M10 modules deliver an ultimate game changer for miniature, battery-powered asset trackers for vehicles, smartwatches, personal navigation devices, pet tracking, industrial automation, and more.
The u-blox MIA-M10 modules, available from Mouser Electronics, feature the ultra-low-power u-blox M10 GNSS platform, pairing the most power-efficient solution for size-constrained, battery-powered asset tracking devices with exceptional sensitivity and acquisition times for concurrent reception of four different global navigation satellite systems (GPS, GLONASS, Galileo, and BeiDou). The ultra-small (4.5 mm x 4.5 mm), highly integrated system-in-package requires no external components, delivers 400% battery life, and requires only 20 mm of board space.
The MIA-M10 modules are available in two product variants. The MIA-M10Q targets a growing market of highly size-constrained battery-powered tracking devices. Its small size, low power demand, and performance make it a natural fit for wearable devices used to keep an eye on the whereabouts and well-being of children, pets and livestock, as well as for highly dynamic applications like small drones, cameras, bike computers, and battery-powered sensors. The second product variant, the MIA-M10C, targets customers requiring more flexibility to combine the module with an active or custom antenna circuit.
The u-blox  EVK-M101 evaluation kit, also available from Mouser, is used to evaluate u-blox M10 positioning technology. The kit comes in a rugged, compact metal housing (105 mm x 64 mm x 26 mm) with a 14-pin front connector, allowing access to all chip interface pins for concurrent measurements. The EVK-M101 evaluation kit features an embedded u-blox M10 chip and includes u-center PC software for configuration, evaluation, and debugging of the u-blox GNSS products and services.
To learn more about the MIA-M10 GNSS modules, visit https://www.mouser.com/new/u-blox/u-blox-mia-m10-modules/.
To learn more about the EVK-M10 evaluation kit, visit https://www.mouser.com/new/u-blox/u-blox-evk-m10-kit/.