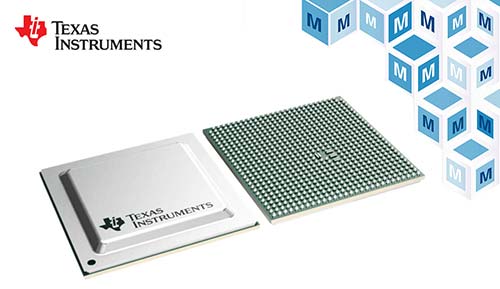 Mouser Electronics, Inc., the industry's leading New Product Introduction (NPI) distributor with the widest selection of semiconductors and electronic components™, is now stocking the TDA4VE, TDA4AL, and TDA4VL System-on-Chip (SoC) processors from Texas Instruments. Designed for smart vision camera applications, the SoC processors support advanced automotive functions, including advanced driver assistance systems (ADAS) and automatic parking. The SoC processors also provide an ideal solution for machine vision, industrial transport, retail automation, and security and surveillance applications.
The TI TDA4x SoC processors, now available at Mouser, are based on the evolutionary Jacinto 7 architecture and include dedicated deep learning and traditional algorithm accelerators. These devices feature two C7x floating point vector DSPs, up to six Arm® Cortex®-R5F microcontrollers, and a dual 64-bit Arm Cortex-A72 microprocessor subsystem. The integrated Matrix Match Acceleration (MMA) deep learning accelerator enables performance up to 8 TOPS within the lowest power envelope in the industry when operating at the typical automotive worst-case junction temperature of 125°C. The dedicated vision hardware accelerators provide vision pre-processing without impacting system performance.
These high-performance SoC processors SoCs boast industry-leading power-to-performance ratios, ensuring scalability and affordable costs for advanced vision camera applications. The SoC processors also feature an integrated next-generation imaging subsystem (ISP), video code, and isolated MCU island, eliminating the need for an external system microcontroller. The TDA4x SoC processors offer multiple high-speed serial interfaces, including a PCI-Express Gen3 controller, a USB 3.0 dual-role device subsystem, two CSI2.0 4L RX interfaces, and two CSI2.0 4L TX interfaces.
The TDA4x SoC processors include protection by automotive-grade safety and security hardware accelerators. Integrated diagnostics and safety features support operations up to ASIL-D levels, while the integrated security features protect data against modern-day attacks. Select part numbers feature an embedded hardware security module, crypto hardware accelerators, and an embedded hardware security module.
To learn more about the TDA4VE, TDA4AL, and TDA4VL SoC processors, visit https://www.mouser.com/new/texas-instruments/ti-tda4ve-tda4al-tda4vl-soc-processors/.