Microchip announces the addition of the LAN9353, LAN9354 and LAN9355 Three-Port, 10/100 Industrial Ethernet Switches to its reliable, high-quality, and high-performance portfolio of Ethernet solutions, which includes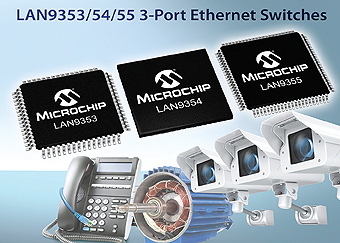 Ethernet switches, controllers, bridges and PHYs.
Featuring the IEEE 1588-2008 Precision Time Protocol (PTP) standard for clock accuracy in the sub-nanosecond range, these highly integrated Ethernet switches offload both synchronisation and communications processing from the host CPU. Developers can also take advantage of advanced features such as Transparent Clocking, which improves system accuracy. Additional features designed to reduce overall system power consumption include Energy Efficient Ethernet (IEEE 802.3az), and Wake On LAN. These switches enable the development of advanced hardware in the rapidly growing Industrial Ethernet market, including automation, motion-control, embedded, automotive, security/surveillance and telecommunications applications. The LAN9353/4/5 10/100 Ethernet switches support widely adopted industry standards, such as MII (Media Independent Interface), RMII (Reduced Media Independent Interface), SMI (Serial Management Interface), Turbo MII, I2C™ and SPI/SQI™ communication interfaces, along with digital I/O. This gives system designers the flexibility to select from a wide range of microcontrollers, Systems-on-Chip (SoCs) or processors to interface with this new family of switches.
Ethernet connectivity has become ubiquitous in communications and networking products. This well-understood technology provides a robust link to ensure reliable communication between devices in a network. To ensure easy installation and network expansion, as well as minimal maintenance, these switches also support 100BASE-FX fibre and copper, along with cable diagnostics that enable system designers and their end-users to determine cable opens, shorts, length to fault and cable length, providing a cost-effective way to extend Ethernet networks over long distances. To enable development with the LAN9353/4/5 Three-Port 10/100 Ethernet Switches, three Microchip evaluation boards were also announced today that support various system architectures. These hardware systems demonstrate how to interface with the switches through basic input/output connections, or with microcontrollers such as the 32-bit PIC32MX family via serial communications.
Microchip Technology
www.microchip.com/Ethernet-Switches-071415a