Microchip announces the addition of the UTC2000, USB-C™ controller to its leading portfolio of USB devices. With this new device, designers of a wide range of applications covering the consumer, industrial and automotive markets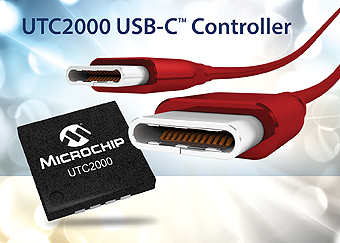 can now simply and quickly implement the radically updated USB-C connector cost effectively, speeding time to market and minimising bills of materials. Housed in a 16-pin QFN package, the UTC2000 controller's small form factor also enables the deployment of USB-C connectors in mobile applications.
The USB-C cable is now poised to become the "universal" cable, as it is capable of supplying data transfer speeds of up to 10 Gbps, 100W of continuous power flow and ultra-high-bandwidth video capabilities made available through alternate modes – all with a single connection and cable. For designers wishing to take advantage of the new standard with the same ultra-fast transfer speeds at the lowest cost point, the UTC2000 controller supports up to 15W of power. This is ideal for a wide range of applications in the consumer market such as notebooks, printers and accessories, docking stations, mobile devices and battery chargers; in the industrial market for computers and handheld devices; and in the automotive market for head units, break-out boxes and USB battery chargers; in addition to other applications.
Microchip's expertise with the USB-C standard provides designers integrating the UTC2000 controller into their products with the confidence that they will meet all of the requirements for USB-C compliance. Additionally, Microchip makes it easy to take full advantage of the USB-C benefits while lowering development costs and product-launch delay risks.
The UTC2000 USB-C controller is supported by Microchip's UTC2000 Evaluation Kit (EVK-UTC2000) which is priced at $99 and is available today. This kit enables designers to easily convert a traditional USB connector to type C for both UFP and DFP.
The UTC2000 USB-C controller is available now for sampling and volume production in a 16-pin QFN package.
Microchip Technology
www.microchip.com/USB-C-081715a