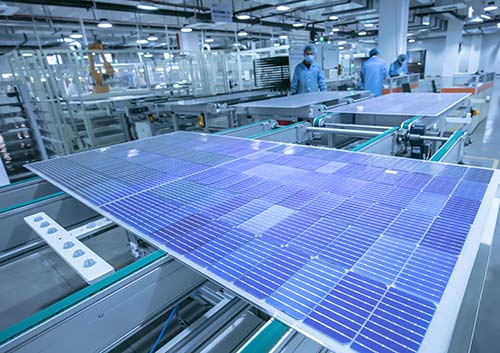 In addition to products for electronics manufacturing and the metalworking industry, Emil Otto also has a segment for the solar industry in its portfolio. The flux specialist has developed a total of 17 fluxes for soldering solar modules, tabber and stringer materials and connecting cells.
"We offer the optimal flux for every area of application in solar cell production. Thus, we have not only developed process-specific fluxes for the processes of electronics manufacturing, but have also adopted this concept for the solar industry. We believe that there is not just one flux for all applications, especially not for highly developed end products. It is precisely here that special fluxes are required that are tailored to the system, the process and the finished end product. Fluxes that have already been on the market for 20 or 30 years no longer meet these modern production and process requirements," explains Markus Geßner, Marketing and Sales Manager at Emil Otto GmbH.
For example, flux is applied by spraying or dipping. Manufacturing systems in solar cell production sometimes have different configurations and specifications and therefore differ from electronics manufacturing systems. For example, the heating systems for preheating, which are not comparable to those in the electronics industry, do not allow the use of purely water-based fluxes. The consumables used in solar cell production must therefore necessarily be adapted to the respective framework conditions. "The development of a comprehensive flux portfolio is not an end in itself and we are not interested in being happy to have a large flux range. Rather, we want to offer the customer a flux that is optimal for his process," Geßner continues. But the energy transition that is crucial in Germany and Europe is also crucial for Emil Otto's product development. "The solar industry is important for Germany as an industrial location. The energy transition in particular presents us with the challenge of massively strengthening and expanding the solar industry in Germany and Europe. Of course, this also requires the best fluxes, and that is why we want to make our contribution to this," emphasises Geßner.
Ecological responsibility is also a high priority for Geßner and his team. "As far as I know, we are the only manufacturer to offer fluxes with an extremely high water content for the production of solar modules. In some cases, we have been able to significantly reduce the alcohol content in individual products. These are hybrid fluxes with an alcohol content of 75% to 15%. The latter do not fall under the category of hazardous goods, which is probably unique," explains Geßner and continues: "We are the only flux manufacturer to offer such a comprehensive portfolio of partially water-based fluxes with a maximum reduced alcohol content. We are convinced that sustainable energy production with solar can only be implemented if we manage to use extremely environmentally friendly consumables that are also not hazardous substances." Hybrid fluxes include EO-S-011, -012, -015 and -017. "As mentioned, these fluxes have a low alcohol content of only 15% in some cases, with drying properties comparable to pure alcohol-based fluxes. A technical balancing act that we have achieved with our development work and of which we are also very proud," says Geßner.
13 of the 17 fluxes are formulated on an alcohol basis and can be offered as concentrates. These are packaged in reduced volume and shipped worldwide. Since they also do not have to be declared as hazardous goods, transport is cost-reduced. The customer can produce the flux fresh on site. The concentrates usually have a storage life of 24 months. The ready-mixed fluxes can be used for at least 12 months and in some cases even 24 months. "The customer therefore always has a fresh flux available. In addition, there can be no shortage of flux on the customer's side, as the concentrate can be stored for 24 months as a back-up," Geßner continues. This ready-to-use approach also minimises the risk of non-functioning supply chains, as the concentrate is always available on site due to the optimal storage time. Based on the economic sustainability, the reduced transport and storage costs and through the volume-reduced packaging, Emil Otto defines a new path and takes the ecological idea of Green Energy into account.
For the reliable removal of flux residues in production equipment, Emil Otto also offers the efficient and gentle cleaning agents Etimol SEM 12 RAA and EO-RA-V. Emil Otto will present the entire product portfolio for the solar industry to the trade public from 14-16 June 2023 at Inter Solar Europe at the Munich exhibition grounds.
EMIL OTTO Flux- u. Oberflächentechnik GmbH