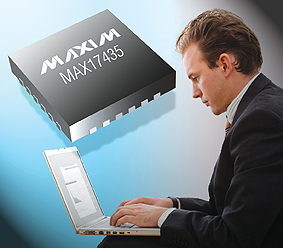 Maxim Integrated Products introduces the MAX17435/ MAX17535, highly integrated SMBus™ battery chargers capable of operating at 850kHz and 500kHz, respectively. The SMBus interface enables programming of the charge settings without changing external components, thus maximizing design flexibility. Programmable settings include charge current, charge voltage, input current limit, relearn voltage, and digital IINP voltage readback. Equivalent competitive solutions require the use of external components to program charge settings. The MAX17435/ MAX17535 are ideal for notebook computers, ultra-mobile PCs (UMPCs), mobile internet devices (MIDs), and other battery-powered applications where space is critical.
The MAX17435/MAX17535 provide ±0.4% battery-voltage accuracy. Low-offset current-sense amplifiers deliver ±3% charge-current accuracy using 10mΩ sense resistors. An internal charge pump drives the adapter n-channel MOSFETs when the adapter is present, and a p-channel MOSFET selects the battery in the absence of an adapter.
The MAX17435/MAX17535 are available in a space-saving, 4mm x 4mm, 24-pin TQFN package with an exposed backside pad. They are fully specified over the -40?C to +85?C extended temperature range.
Maxim Integrated Products
www.maxim-ic.com