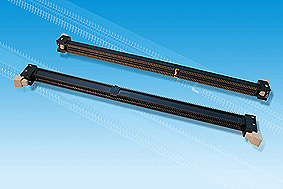 Tyco Electronics (TE) has introduced a new very low-profile (VLP) double-data-rate 3 (DDR3) dual in-line memory module (DIMM) socket designed around JEDEC industry standards.
With a maximum latch height of 16mm, the reduction in the overall height of the socket mated with DIMM module allows enclosures to be smaller or boards to be mounted closer to each other while facilitating the heat elimination of high-end servers.
TE's VLP DDR3 DIMM socket addresses interconnect requirements across server, communications, and notebook platforms. The product can be applied to high-end servers and communications equipment in a variety of industries including consumer/mobile devices, industrial and automotive.
The product is available with three gold plating options, two latch options (black or white) and is surface mountable.
For more information on VLP DDR3 DIMM Socket, please visit http://www.tycoelectronics.com/catalog/minf/en/771?BML=10576,17578,17862.