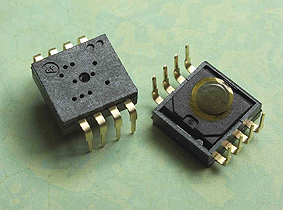 Avago Technologies, a leading supplier of analog interface components for communications, industrial and consumer applications, today announced two new low-power optical sensors for wireless mouse applications. The ADNS-2080 and ADNS-3000 LED-based sensors leverage an advanced low-power architecture and automatic power management modes to enable over a year of battery life for cordless mice using a single AA battery.
The ADNS-2080 and ADNS-3000 optical sensors provide precise, high-speed tracking for wireless mice, with high-speed motion detection of up to 30 inches per second (ips) and 20g acceleration detection. The sensors also feature selectable resolution of up to 2000 counts per inch (cpi) for highly accurate, sensitive navigation.
The small form factor devices have on-chip oscillators, reducing external component count, and do not require precision optical alignment, facilitating high-volume assembly. These features simplify mouse designs and provide cost savings to customers.
"The combination of lowering power consumption while improving tracking performance is the foundation of our dominant leadership position for optical mouse sensors," said Angeline Khoo, marketing manager for mouse sensor products at Avago. "The ADNS-2080 and ADNS-3000 optical sensors build on this tradition with outstanding tracking performance and by enabling wireless mice to operate using only one AA battery."
In a related announcement demonstrating the breadth of the Avago optical mouse sensor portfolio, the company today introduced the highly-integrated ADNS-2700 USB optical sensor system-on-chip for simplified, cost-efficient design of corded mice.
Optical Navigation Technology
The new sensors measure changes in position by optically acquiring sequential surface images and mathematically determining the direction and magnitude of movement from the changes in the images. The devices contain an Image Acquisition System (IAS), a Digital Signal Processor (DSP) and a two-wire serial port for the ADNS-2080 device or a four-wire serial port for the ADNS-3000 device. The DSP automatically processes images from the IAS to determine the direction and distance of motion without requiring mouse designers to deal with source code or firmware. The serial ports allow the devices to be programmed via registers.
Avago pioneered the optical navigation technology found in many mice used throughout the world today. To date, Avago has shipped over a billion optical navigation sensors to a wide range of global customers.
Additional ADNS-2080 and ADNS-3000 Product Features
• Supply voltage input as low as 2.1V for the ADNS-2080 device and 1.7V for the ADNS-3000 device
• Integrated low dropout voltage regulator on the ADNS-2080 device
• External interrupt output for motion detection
• Programmable rest frame periods/response-times and downshift times from one power-saving mode to another
• Housed in 8-pin staggered dual in-line package (DIP)
Availability
Samples and production quantities are available now through the Avago direct sales channel and via worldwide distribution partners. Avago also offers the ADNK-2080 sample kit, the ADNK-3000 sample kit, the ADNK-2083-ND24 reference design kit, and the ADNK-3003-ND24 reference design kit for wireless mouse designers.
www.avagotech.com