Toshiba Electronics Europe has launched the world's smallest-class of embedded NAND flash memory products integrating NAND chips fabricated with cutting-edge 15nm process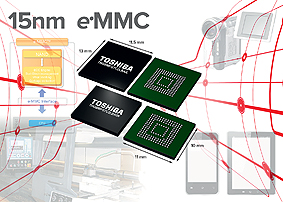 technology. The new memory devices are compliant with the latest e∙MMCTM standard, and are designed for a wide range of applications including smartphones, tablet PCs and wearable devices. Sample shipment of the 16GB devices start from today, with 8GB, 32GB, 64GB and 128GB products to follow.
The e∙MMC NAND chips are fabricated using Toshiba's cutting-edge 15nm process technology and the devices integrate a controller that manages basic control functions for NAND applications. By utilizing the 15nm NAND chips, the package size is approximately 26% smaller than comparable Toshiba products. The153-ball FBGA packages are suitable for use in smartphones, tablet PCs and wearable devices where miniaturization and weight savings are key requirements.
The 16GB e∙MMC NAND chips are available in several package sizes, 11.5 × 13.0 × 0.8mm (THGBMFG7C2LBAIL), 11.0 × 10.0 × 1.0 mm (THGBMFG7C2LBAIW) and 11.5 × 13.0 × 0.8 mm (THGBMFG7C1LBAIL). The 8GB, 32GB and 64GB devices are also available in the 11.5 × 14.0 mm and 11.0 ×10.0 mm formats. Embedded in a system, the 128GB device (THGBMFT0CBLBAIS) measures 11.5 × 13.0 × 1.4 mm and can record up to 16.3 hours of full spec high definition video and 39.7 hours of standard definition video.
The devices also offer faster read/write performance due to improvements in basic chip performance and controller optimization. The read speed is approximately 8% faster (max.), while the write speed is approximately 20% faster (max.).
Demand continues to grow for NAND flash memory that can support applications such as smartphones and tablet PCs.
Toshiba Electronics Europe
www.toshiba-components.com