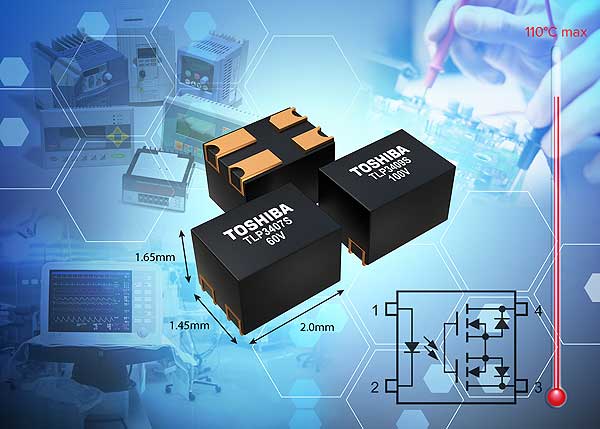 Toshiba Electronics Europe announced the launch of two additions to their line-up of photorelays; the 60V TLP3407S and the 100V TLP3409S. These devices are packaged in S-VSON4, the 2.00mm x 1.45mm package with the industry's smallest mounting area.
The new products realize high voltages while retaining the features of the existing TLP3406S, which offers a 30V rating with large on-state current rating and small size. The higher voltages realize support for Device Power Supply (DPS) applications, such as SoC testers, which require voltage variation for automotive ICs.
The TLP3407S can handle currents up to 1A and has a low RON of 0.2Ω (typ.) whereas the TLP3409S handles 0.65A with a RON of 0.4Ω (typ.). Both devices operate from -40°C to +110°C and consume an extremely low 1nA in the off-state.
The S-VSON4 package has a 22.5% smaller mounting area than the 2.45mm x 1.45mm VSON4 package. This series also pushes operating temperature to a new high, from 85°C to 110°C. It contributes to improved design efficiency by reducing the size of the tester board, increasing the number of relay circuits, and further improving integration density.
Mass production shipments has now started.
Notes: The latest Gartner market report recognizes Toshiba as the leading manufacturer of optocouplers by sales in 2015 and 2016, with 23% of sale-based market share in CY2016. (Source: Gartner "Market Share: Semiconductor Devices and Applications Worldwide, 2016" 30 March 2016.) Toshiba will continue to deliver products that meet the needs of customers by promoting the development of a diverse portfolio of photocouplers and photorelays tailored to market trends.
Toshiba Electronics Europe   |   www.toshiba.semicon-storage.com