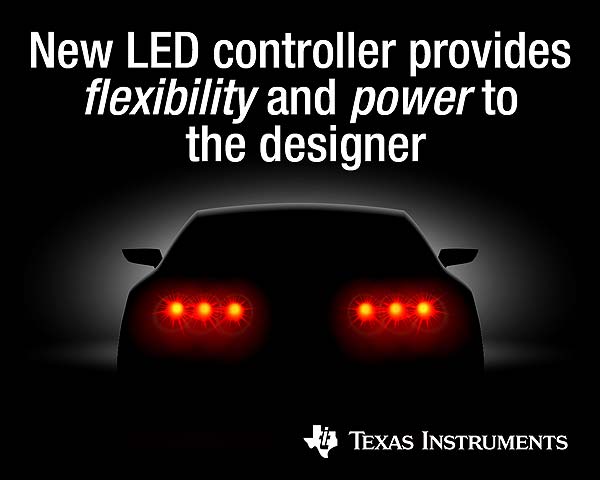 Texas Instruments (TI) today introduced the first 3-channel high-side linear automotive light-emitting diode (LED) controller without internal MOSFETs giving designers greater flexibility for their lighting designs. The TPS92830-Q1's novel architecture enables higher power and better thermal dissipation than conventional LED controllers, and are particularly beneficial for automotive LED lighting applications that require high performance and reliability. For more information, see www.ti.com/tps92830q1-pr-eu.
Conventional LED drivers integrate the MOSFET, which limits designers' ability to customize features. With that type of driver, designers often must make significant design modifications to achieve the desired system performance. The TPS92830-Q1 LED controller's flexible on-board features give designers the freedom to select the best MOSFET for their system requirements. With this new approach, designers can more quickly and efficiently optimize their lighting power designs for automotive system requirements and desired dimming features.
Key features and benefits
Flexibility: The on-chip pulse-width modulation (PWM) generator or PWM input enables flexible dimming. Designers can use either the analog control or PWM to manage an output current of more than 150 mA per channel, to power automotive rear combination lamps and daytime running lights.
Improved thermal dissipation: By pairing the LED controller with an external MOSFET, the designer can achieve the required high power output while distributing the power across the controller and MOSFET to avoid system overheating. By retaining linear architecture, the TPS92830-Q1 provides improved electromagnetic interference (EMI) and electromagnetic compatibility (EMC) performance.
Greater system reliability: Advanced protection and built-in open and short detection features help designers meet original equipment manufacturer (OEM) system reliability requirements. The output current derating feature protects the external MOSFET under high voltage conditions to ensure system reliability.
The TPS92830-Q1 expands TI's extensive portfolio of LED drivers, design tools and technical resources that help designers implement innovative automotive lighting features.
Tools and support
Support tools include the TPS92830-Q1 3-Channel High-Current Linear LED Controller evaluation module. Engineers can jump-start automotive lighting systems designs using the TPS92830-Q1 with the EMC Compliant Automotive Daytime Running Light and Position Light Reference Design with LED Thermal Protection.
Texas Instruments Incorporated (TI)  |   www.ti.com