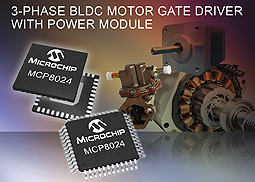 Microchip announces a new three-phase BLDC motor gate driver with power module: the MCP8024. This new device includes functions that power dsPIC® Digital Signal Controllers (DSCs) and PIC® microcontrollers (MCUs) with capabilities to drive six N-channel MOSFETs. Customers can implement improved performance and high robustness providing increased efficiency and lowering system cost while reducing time to market.
The MCP8024 operates across a wide voltage range of 6V to 28V and can withstand transient voltage up to 48V. The device provides high-integration analogue, such as three current-sensing operational amplifiers; an over-current comparator; MOSFET drivers and a bidirectional communication interface for a complete motor system design. The configurable driver dead-time management; driver blanking-time control; and Over-Current Limit (OCL) for external MOSFETs, offer a significant increase in flexibility. The adjustable step-down DC-to-DC converter powers a broad range of microcontrollers with the efficiency benefits of a switch-mode power supply. In addition, the wide operating temperature range, from -40°C to +150°C (H-temp), allows the MCP8024 to be used in harsh environments such as automotive under-hood applications.
The MCP8024 is available in thermally-enhanced 40-pin QFN 5mm × 5mm and 48-pin TQFP 7mm x 7 mm packages. The MCP8024 is suitable for a broad range of applications in the automotive market, such as HVAC blowers and pumps, and in the industrial market including fans, motion control, robotics, and others.
Microchip Technology
www.microchip.com/get/RTAS