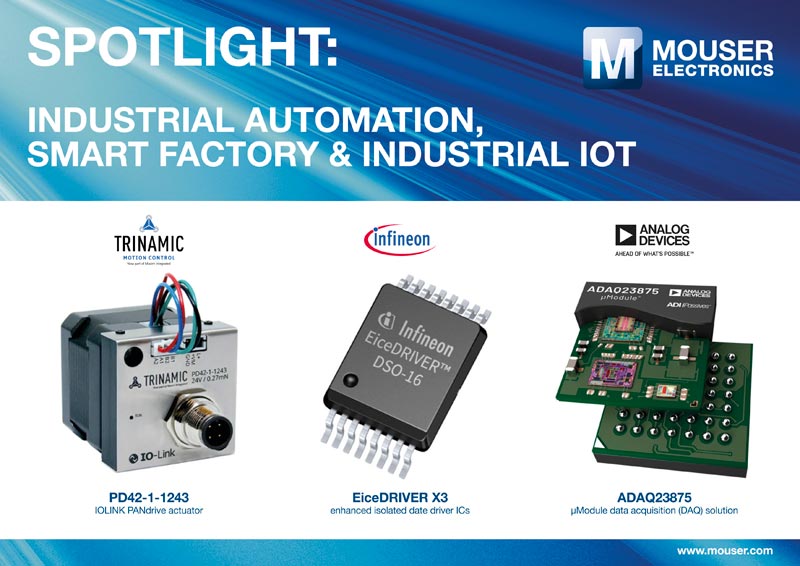 Mouser Electronics, Inc., the New Product Introduction (NPI) leader empowering innovation, this month highlights several new products essential for incorporating into an industrial automation design. Showcased are a data acquisition solution, isolated gate drivers, and an IO-Link stepper motor actuator.
Analog Devices ADAQ23875 µModule data acquisition (DAQ) solution
Interfacing the real world to the digital domain is an important aspect of any industrial application. The ADSQ23875 comprises a complete integrated DAQ solution incorporating signal processing and conditioning functions, a differential low noise analog-to-digital converter (ADC), and an LVDS interface. The high-speed, 16-bit ADC features a successive approximation register capable of 15 million samples per second.
https://eu.mouser.com/publicrelations_analogdevices_adaq23875_2021final/
Infineon EiceDRIVER X3 enhanced isolated date driver ICs
Industrial motor control applications require robust gate driver ICs to maintain reliable operation. The Infineon EiceDRIVER X3 ICs include a series of analog and digital gate drivers for use in industrial motor control, induction heating and welding applications. Certified to UL 1577 for 5.7 kV isolation and VDE 0884-11 1.76 kV reinforced isolation, protection features include short-circuit clamping, adjustable saturation detection (DESAT), and Miller clamp.
https://eu.mouser.com/pressroom_infineon-eicedriver-isolated-gate-driver-ics/
Trinamic PD42-1-1243 IOLINK PANdrive actuator
Combining a NEMA17 42 mm stepper motor, motor controller, and a Maxim Integrated IO-Link transceiver, the PD42-1-1243 IOLINK PANdrive actuator is ideal for a broad range of industrial motion control requirements. Capable of operating from 6 Vdc to 28 Vdc and featuring an industry standard 4-pin M12 IO-Link connector, the actuator is fitted with an absolute position sensor, load detection, silent PWM mode, and automatic current scaling features.
https://eu.mouser.com/pressroom_trinamic-pd42-1-1243-iolink-actuator/
Last month, Mouser launched more than 483 new products ready for same-day shipment. To see more new innovative products, visit https://info.mouser.com/new_Products/.