XP Power announced the CCL400 series of highly efficient convection cooled 400 Watt AC-DC power supplies. With a typical efficiency up to 94% and a flat efficiency curve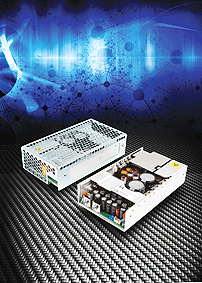 over virtually the entire load range, the CCL400 does not require any forced air cooling. With little heat generated due to the high efficiency, the components within the CCL400 run at lower temperatures, leading to increased reliability and service life. Unlike products currently in the market, the CCL400 can continuously deliver the full 400Watt output with convection cooling over the wide temperature range from -40°C to +50°C and across almost the entire input voltage range. The CCL400 can also be conduction cooled, enabling the full 400W across the entire input range and up to +70°C ambient temperature. Measuring 100.3 × 177.8 × 39.9 mm (3.95 × 7.00 × 1.57 inches) the CCL400 complies with the standard 1U chassis mount format. An optional enclosing cover is available to order.
The CCL400 range comprises 4 single-output models that provide the popular nominal output voltages of +12, +24, +30 or +48VDC. A user trim function provides output voltage adjustment of ±3% of stated nominal in order to accommodate load losses.
XP Power
www.xppower.com