Murata announced the addition of the OKD series of non-isolated point-of-load (PoL) DC/DC converters from Murata Power Solutions. Available in three different package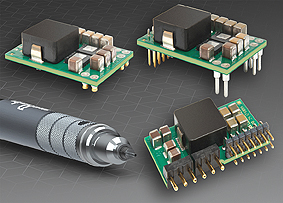 formats, through-hole, single-in-line, and surface mount, the OKDx-T/40 is a 40Amp, 132 Watt digital DC/DC converter. These highly efficient (typically 97.2%), fully regulated converters offer a high power density and measure just 30.85 × 20.0 × 8.2 mm.
The PMBus™ interface facilitates power management features not previously available in analog PoL converters. By interfacing the OKD converter to the system's I2C bus, a systems engineer can monitor critical system-level performance requirements that include Vin, Iin, Vout, Iout, and operating temperature.
The PMBus™ can also be used to set warning flags for temperature, Vin, Vout, and Iout, and allows the user to customize parameters such as Vout, Vin turn on/off thresholds, output over voltage protection, output current limit, and ramp up characteristics, to name a few. Advanced converter design features include digital current sharing (full power, no derating), non-linear transient response, optimized dead time control, synchronization, and phase spreading.
Murata
www.murata.com