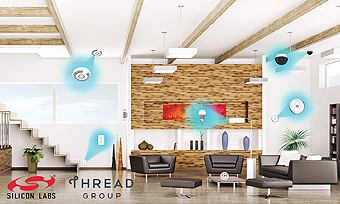 Silicon Labs introduced its highly anticipated Thread networking solution, delivering a software stack built upon years of mesh networking expertise and the industry's most advanced mesh networking software development tools. Silicon Labs' Thread solution offers developers the fastest path to developing Thread-compliant products for the IoT including thermostats, wireless sensor networks, smoke/carbon monoxide detectors, connected lighting devices, control panels, wireless access points and gateways.
Thread technology fills a critical gap in the IoT ecosystem by providing the industry's first standards-based, low-power mesh networking solution based on Internet Protocol (IP), enabling reliable, secure and scalable Internet connectivity for battery-powered devices in the connected home. As a founding member of the Thread Group and the chair of the Group's technical committee, Silicon Labs has been instrumental in defining and developing the Thread specification introduced today.
Silicon Labs' Thread solution offers a simple, secure and scalable way to wirelessly interconnect hundreds of connected home devices and to seamlessly bridge those devices to the Internet. Thread software provides a self-healing, IPv6-based mesh network capable of scaling to 250+ nodes with no single point of failure. The protocol provides extensive support for "sleepy" end nodes to enable years of low-energy operation using a single battery as well as simplified commissioning. Users can easily add nodes to a network using a smartphone or browser. Silicon Labs' Thread stack uses banking-class, end-to-end security to join nodes to the network and proven AES-128 cryptography to secure all networking transactions.
Silicon Labs offers a comprehensive suite of development and debugging tools to accelerate the introduction of Thread-compliant products. Silicon Labs' AppBuilder tool simplifies and accelerates the development of IP-based mesh networking applications. AppBuilder enables developers to easily configure mesh networking applications for Thread protocol using Silicon Labs' application framework, which isolates application code with a set of easy-to-use call backs and plugins, making the customer's software portable and reusable across supported wireless SoCs in Silicon Labs' portfolio. Silicon Labs also offers a powerful Desktop Network Analyzer tool that, unlike traditional wireless sniffers, provides complete visibility of all wireless networking activity by using the unique packet trace port available in Silicon Labs' mesh networking SoCs.
Silicon Labs
www.silabs.com/thread