congatec AG, a leading technology company for embedded computer modules, single board computers (SBCs) and embedded design and manufacturing (EDM) services,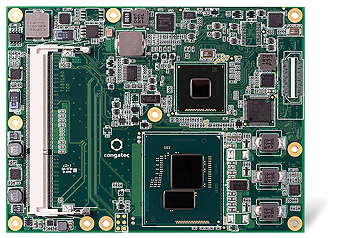 announced the latest addition to its COM Express Basic portfolio: the new conga-TS97 computer module with either Intel® Core™ or Intel® Xeon® processors (codename Broadwell) manufactured in 14nm technology. The new conga-TS97 COM Express Basic module in the Intel® Xeon® version delivers server-grade performance for the first time and, compared to its predecessors, excels not only with its overall performance but particularly in terms of graphics due to the featured Intel® Iris™ Pro technology. Intel's most powerful processor-integrated graphics and media engine offers an immersive user experience with fast 3D rendering and realistic shading at high frame rates.
The new conga-TS97 high-end module is designed for any industry sector where applications with customized I/O and IoT interface configurations must meet the highest performance standards in the smallest space. While the Intel® Core™ processor-based modules are well suited for applications ranging from industrial automation to medical, retail and gaming, the Intel® Xeon® processor-based modules are designed for industry-standard server platforms. Areas of application include carrier-grade edge node servers as well as industrial cloud servers with high packing density and/or minimum footprint. The high graphics performance of the integrated Intel® Iris™ Pro technology, useful in carrier-grade applications for content delivery platforms with real time video transcoding and network functions virtualization (NFV), will also work well in industrial applications to fulfill important situational awareness tasks – for example in autonomous vehicles. GPGPU-based applications can also be found in parallel deep packet inspection or content encryption and decryption. For server-based applications, the graphics engine delivers distributed clients rich and responsive 3D performance for CAD, 3D modeling and video rendering.
Since the new processors are manufactured at the 14nm node of the new microarchitecture, performance upgrades are quick and efficient to implement. Existing product lines can be enhanced with new performance classes and optimized TDP, while the immediate availability of evaluation boards speeds up the evaluation process for new applications.
The feature set in detail
The conga-TS97 modules are equipped with the latest 14nm quad-core Intel® Core™ and Xeon® processors and offer 6MB of L2 cache with a TDP of 47 watts. The following Intel® processors are supported: Core i7-5700EQ, Core i7-5850EQ, Xeon E3-1258L v4 and E3-1278L v4. Thanks to super-fast 32 GB 1600 DDR3L memory support, the modules meet server-grade requirements and are specifically designed for use in data-intensive applications. With support for AVX 2.0, SSE 4.2 and OpenCL 2.0, the new modules are also capable of processing high-parallel tasks quickly and efficiently.
The integrated Intel® Gen 8 HD Graphics scales to Intel® Iris™ Pro P6300 with 48 execution units. This allows operation at 60 Hz of up to 3 independent 4K displays (3840 × 1260) via HDMI 1.4, DVI and DisplayPort 1.2. An additional dual-channel LVDS output is provided while OpenGL 4.3 and DirectX11.2 ensure high-quality images and the latest 3D features. The integrated video transcoder relieves the CPU by providing H265, H264, MPEG2 and VC1 video streams in real time.
congatec AG
www.congatec.com