Renesas Electronics announced a new wireless solution that supports the Bluetooth® Smart near field wireless communication standard. The new RL78/G1D Group of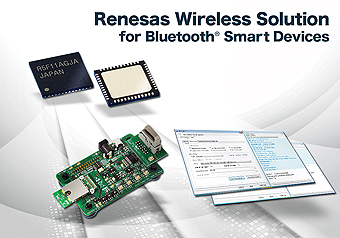 microcontrollers (MCUs) has been developed by combining the low-power RF Transceiver Technology for Bluetooth® Low Energy (BLE), which the company presented at the International Solid-State Circuits Conference (ISSCC) held in February, 2015, with Renesas' expertise on consumer and industrial MCUs, and on-chip peripheral devices necessary for wireless communication. By employing an evaluation kit and Bluetooth-SIG qualified protocol stack, the new MCUs enable system designers to conduct evaluation of wireless characteristics and initial evaluation of communication behaviors. The new MCUs are also provided with PC GUI tool for easy manipulation of these components. These will enable customers to easily develop Bluetooth Smart applications and reduce the time required for development while making effective use of development environment and software resources.
BLE is a near field wireless communication technology that holds great potential for connecting smartphones and a variety of other devices. In addition to smartphones, it is also suitable for use in devices linked by serial communication technologies such as UARTs and for implementing communication between units within a single piece of equipment. Eliminating the need for wired connections between such units provides greater design freedom and simplifies maintenance. This technology therefore has the potential to bring about major changes in embedded devices. The Bluetooth Smart compliant RL78/G1D MCUs have been developed by combining the ultra-low-power RL78 MCU, which has achieved widespread adoption in the consumer and industrial fields, with the highly regarded low-current-consumption Bluetooth® low energy transceiver technology announced at the ISSCC in February 2015. The current consumption of the RL78/G1D is among the lowest in the industry (3.5 milliamperes (mA) during reception and 4.3 mA during transmission), delivering substantially reduced power consumption that is a key consideration for wireless devices.
Renesas Electronics Europe
www.renesas.eu