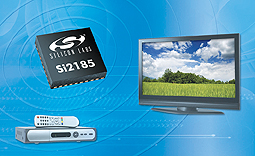 Silicon Laboratories Inc. introduced the industry's first single-chip hybrid TV receiver family designed to simplify the design of TVs, set-top boxes (STBs), Blu-ray recorders and PC accessories. The new receiver family includes the Si2185 hybrid receiver, which combines a digital/analog TV tuner, a multi-standard analog demodulator, and DVB-T and DVB-C demodulators into a fully integrated, monolithic solution.
The receiver family also includes the Si2115/13/11 digital-only receivers designed for DVB-T and DVB-C digital STBs offering terrestrial and cable reception. The new Si2185/15/13/11 receiver family enables TV and STB developers to eliminate nume­rous external components such as surface acoustical wave (SAW) filters, tracking
filter inductors, wirewound inductors and low-noise amplifiers (LNAs), thereby simplifying their designs and reducing BOM cost. The receiver family's unprecedented single-chip integration can enable a total system savings of up to 75 percent compared to more complex two-chip solutions.
Silicon Laboratories Inc.
www.silabs.com