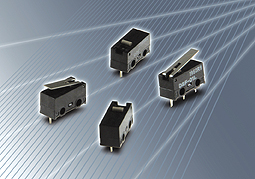 A new ultra-miniature micro switch from Omron Electronic Components B.V. features a unique mechanism to enhance switching reliability as well as a two-stage bottom housing with different levels designed to prevent flux penetration during manufacturing. The Omron D2F micro switch is just 6.5mm (h) × 12.8mm (w) × 5.8mm (d) and incorporates insertion moulded terminals and a unique snapping mechanism.
This is constructed with two highly precise split springs to ensure a long and reliable service life.
The D2F micro switch has an operating voltage of 125VAC at 3A and 30VDC at 2A, an insulation resistance of 100MΩ and an operating temperature range of -25°C to 85°C.
The D2F supports a wide variety of terminal types and configurations including self-clinching PCB, right-angled, left-angled, and solder terminals. For high volume applications the operating lever, wire cable, terminals and housing can be customised to meet specific customer requirements. The D2F product family is RoHS compliant.
Omron Electronics Components B.V.
http://components.omron.eu