Renesas Electronics, a premier provider of advanced semiconductor solutions, today announced a new Universal Serial Bus 3.0 (USB 3.0) hub controller (part number μPD720211) with dual downstream ports, extending more flexibility to implement USB 3.0 connections of digital devices such as PCs, tablets, and digital TVs to other USB 3.0-compatible peripheral devices.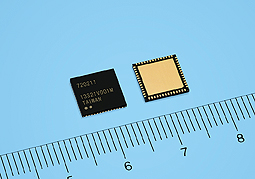 Adding a new two-port hub controller to the lineup alongside Renesas' world's-first certified USB 3.0 four-port hub controller (part number μPD720210) increases system designers' options for USB 3.0 hub expansion with products such as PCs, tablets, display monitors, docking stations (function expansion units that connect to notebook PCs), and digital TVs. The addition of the two-port hub controller (uPD720211) supports designs with tighter space and cost budgets, while expanding the USB 3.0 connectivity to utilize the increasing number and performance of USB 3.0 peripherals devices available in the market.
The two-port hub controller employs a quad flat no-lead (QFN) package, which is presently the industry-leading small package for USB 3.0 hub controller chips, and integrates a voltage step-down regulator equivalent to that of existing hub controllers as well as peripheral components required for rapid charging of tablets, smartphones, etc. In addition, the two-port hub controller delivers industry-leading small power consumption at approximately 5 milliwatts (mW) in low-power mode and approximately 350 mW during USB 3.0 operation.
The USB 3.0 standard, which delivers 10 times the previous maximum transfer rate of 480 megabits per second, was introduced in response to demand for higher data interface speeds to accommodate the large file sizes of video content and recording media with increased storage capacity. More recently, chipsets with integrated USB 3.0 host controller functionality have appeared, spurring adoption of USB 3.0 on devices other than PCs, such as tablets and digital home electronics products.
Renesas Electronics
www.renesas.eu