Silicon Labs introduced highly integrated, feature-rich 8-bit microcontrollers (MCUs) optimized for cost-sensitive motor control applications. The new C8051F85x/6x MCUs combine best-in-class analog and communications peripherals, flash sizes ranging from 2 kB to 8 kB,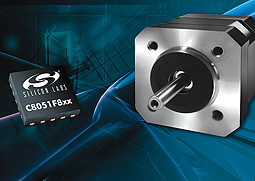 high performance, small-footprint packaging and cost-effective pricing, making them ideal for brushless dc motor control applications used in remote-control helicopters and cars, PC and electric fans, electric tools and small appliances. The F85/6x MCUs are a good fit for other consumer and industrial applications such as power supplies, battery chargers, set-top boxes, projectors, lighting equipment and optical transceiver modules. These AEC-Q100-qualified MCUs can also be used in automotive body electronics applications such as window lifts and power seats.
Today's embedded developers seek economical mixed-signal MCU solutions that provide high levels of integration and processing performance for analog-intensive and computationally demanding applications such as motor control. Designed to meet the performance requirements of motor control, the F85x/6x MCUs feature a high-speed 8051 core that is 50 percent faster than the closest in-class competitors. This high performance enables finer pulse-width modulation (PWM), enhanced motor control efficiency and the ability to execute more complex algorithms for a broad range of motor speeds. The F85x/6x MCUs also support three independent high-resolution PWM channels with a built-in overcurrent protection/fault detection capability specifically targeting motor control and power supply applications.
The F85x/6x MCUs take functional density to the next level by integrating advanced analog and digital peripherals into a small package. The MCUs include a 12-bit multi-channel analog-to-digital converter (ADC), two analog comparators with programmable hysteresis and response time, and a precise internal voltage reference.
Silicon Labs
www.silabs.com/8bit-mcu