15th-17th September 2015 at HTW Berlin; Classes Available for All Experience Levels, From Beginner to Expert.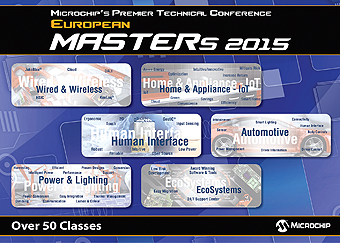 Microchip Technology announces that registration is open for its European MASTERs Conference at HTW – Berlin, Germany.
The European MASTERs Conference is a valuable resource for designing with Microchip's products. It provides design engineers with an annual forum for sharing and exchanging technical information on the Company's 8-, 16- and 32-bit PIC® microcontrollers, high-performance analog and interface solutions, dsPIC® digital signal controllers, wireless and mTouch® sensing solutions, memory products, and MPLAB® development systems – including the industry's only singular IDE to support an entire 8-, 16- and 32-bit microcontroller portfolio.
This three day conference offers a selection of more than 50 classes that cover a broad range of topics, taught by Microchip's application and design engineers as well as selected industry experts.
Learn from these experts and leave with everything needed to get up and running on new designs. Lectures, hands-on classes and unique Open Experts Lab sessions will cover a wide range of embedded control topics including new products and peripherals, C programming, firmware design, connectivity sessions on TCP/IP, USB, CAN and Bluetooth, graphics and capacitive-touch interface development, intelligent power supplies, motor control, selecting op-amps for sensor applications using an RTOS and low-power system design.
Extracurricular events include a BBQ Dinner and a Dinner Cruise along the river Spree.
Registration is now open, with an early-bird discount available until 27th June 2015.

Microchip Technology
www.microchip.com/eumasters