Maxim Integrated's gamma radiation-resistant memory uses only one contact to simplify implementations in small, disposable medical sensors.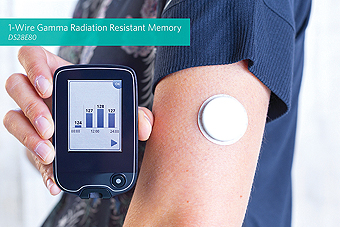 Maxim Integrated Products, Inc. makes it easy to calibrate a consumable medical sensor and to monitor or control unsanitary reuse of medical disposables with the DS28E80 gamma-radiation-resistant, nonvolatile (NV) 1-Wire® memory.
Gamma radiation sterilization is typically used on single-use disposable medical sensors and consumables because the method is predictable, reliable, faster to process, and usable across a wide array of product materials and packaging types. But, gamma radiation is incompatible with traditional floating-gate memory technologies used in semiconductors because gamma's high-ionizing radiation erases the memory.
The new DS28E80 NV memory, however, is resistant to gamma radiation up to 75kGy (kilo gray). With flexible programming options, it allows OEMs to factory calibrate their sensors, tools, and accessories to their host medical instrument in the field. It can be used to monitor or even prevent unsanitary reuse of a disposable medical sensor and consumables. It operates over the company's trusted 1-Wire interface, so consumable manufacturers can replace multiple cumbersome cables with a single contact.
Key Advantages:
• Manufacturing calibration: OEMs can automatically detect and calibrate sensors and accessories to ensure quality.
• Usage tracking: guards against incorrect attachment and warns or prevents unsanitary reuse of consumables.
• Embedded identification: embedded 1-Wire protocol provides unalterable 64-bit factory-assigned serial ID which allows for tracking and can prevent usage of unauthorized consumables.
• Reprogrammable: 248 bytes of user memory organized in 8-byte blocks
• Permanent write protection: flexible per-block options for use memory
Maxim Integrated www.maximintegrated.com