Altera Corporation revealed architectural and product details of its Stratix® 10 FPGAs and SoCs, the next generation of high-end programmable logic devices delivering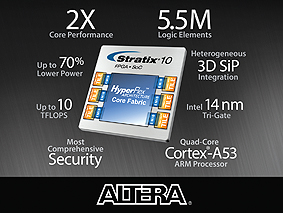 breakthrough levels of performance, integration, density and security.
Stratix 10 FPGAs and SoCs leverage Altera's revolutionary HyperFlex™ FPGA fabric architecture built on the Intel® 14 nm Tri-Gate process to provide 2X higher core performance over previous generation FPGAs. Combining the industry's highest performance, highest density FPGA with advanced embedded processing capabilities, GPU-class floating point computation performance and heterogeneous 3D SiP integration, enables Altera customers to uniquely address design challenges in the next generation of communications, data center, IoT infrastructure, military and high-performance computing systems.
HyperFlex Architecture "Registers Everywhere" Approach Stratix 10 FPGAs and SoCs are the first Altera devices to leverage the company's new HyperFlex architecture, the FPGA industry's most significant fabric architecture innovation in over a decade. The HyperFlex architecture, along with a full process node advantage from the Intel 14 nm Tri-Gate process, provides a 2X core logic frequency improvement over competing next-generation high-end FPGAs.
The HyperFlex architecture enables high-performance designs to operate up to 70 percent lower power by reducing logic area requirements. Find more information at www.altera.com/hyperflex.
Altera
www.altera.com