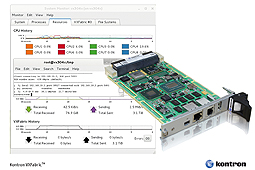 PLX Technology, Inc. and Kontron, announced an industry breakthrough in the deployment of PCI Express (PCIe) technology as a backplane interconnect. Built around PLX ExpressLane PCIe 3.0 (Gen3) switches, Kontron's VX3042 and VX3044 Intel Core i7-based single-board computers (SBCs) routinely achieve 5.6 gigabytes per second (GB/s) in data throughput between any boards in a VPX rack.
The Kontron VX3042 and VX3044 Intel Core i7-based SBCs leverage PLX's PCIe Gen3 switching technology along with Kontron's exclusive VXFabric software. In addition to having two 10 Gigabit Ethernet channels already featured on the boards, VXFabric implements TCP/IP over PCI Express as a second data plane for higher-performance embedded computing. This combination of features enables efficient system convergence, as all devices and subsystems offer native PCIe, which permits immediate use of an existing infrastructure, thereby lowering latency, cost and power. Kontron VXFabric provides the software between the PLX ExpressLane switch and the bottom of a standard TCP/IP stack, which allows the boards to use their existing TCP/IP-based application without having to be modified. PLX switches offer the ability to combine different data types in a
single converged pathway.
PLX Technology
www.plxtech.com
Kontron
www.kontron.com