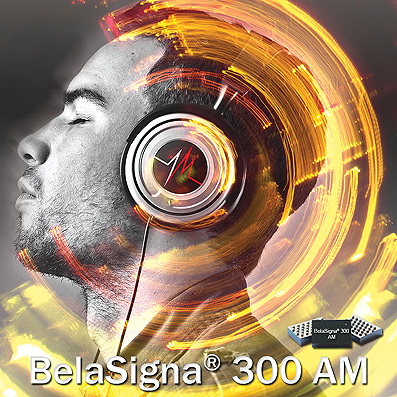 ON Semiconductor announced the release of BelaSigna 300® AM with AfterMaster HD Audio Labs, Inc., an industry-leading audio technology company based in Hollywood, CA, a subsidiary of Studio One Media Inc. (OTCQB:SOMD). The new BelaSigna 300 AM digital signal processing (DSP) chip embedded with AfterMaster technology is a ground-breaking audio solution that will dramatically enhance the listening experience on any consumer device.
Developed by AfterMaster Audio Labs in conjunction with ON Semiconductor, BelaSigna 300 AM can be easily installed by manufacturers to provide incredible sound in any device with audio capabilities. With its miniature size, WLCSP packaging, and low power usage; even small electronics such as headphones and smartphones can leverage the AfterMaster HD processing technology, eliminating the need for large or expensive hardware redesigns.
The chip will operate at 4 mA from a 1.8 V source while running AfterMaster HD's algorithms to offer high-fidelity, studio-quality sound to audio-enabled devices and services, including televisions, headphones, speakers, mobile devices, streaming services and more. Using real-time mastering and re-mastering processing technology as well as proprietary Adaptive Intuitive Response™ mechanisms, AfterMaster HD preserves original sound quality while introducing greater depth, clarity and richness to any listening experience.
Product distribution of BelaSigna 300 AM with AfterMaster HD will be available through ON Semiconductor's global channel and distribution network. For pricing information, please contact your local ON Semiconductor sales office. More information including documentation and development tools is available at www.onsemi.com/belasigna
AfterMaster
www.aftermasterhd.com
ON Semiconductor
www.onsemi.com