ON Semiconductor launched an important new product family that supports high-performance, reliable and efficient communications for the Internet of Things (IoT)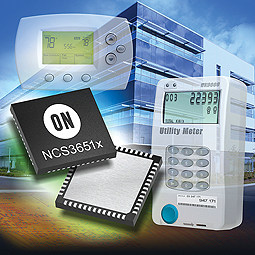 and smart metering applications. The NCS3651x family of system-on-chip (SoC) transceivers has been developed using ON Semiconductor's expertise in highly integrated mixed signal integrated device technology and radio frequency (RF) design. The company is also an active member of the ZigBee® Alliance.
The NCS3651x is a family of 2.4 gigahertz (GHz) ultra-low power wireless transceivers based on the IEEE 802.15.4-2006 standard which support protocols such as ZigBee, 6loWPAN, WirelessHART, and proprietary versions. These solutions are ideal for use in low data rate, intermittent communication IoT applications in smart metering and consumer appliances. All devices are optimized for low power consumption and high efficiency with single supply operation from a standard battery (1.0 volt (V) to 3.6 V) and best in class low receive and transmit currents. This enables growing market demands for alternative energy solutions such as energy harvesting. It also expands support for additional battery types while dramatically increasing battery life.
The NCS3651x incorporates a powerful 32-bit ARM® Cortex®-M3 processor as well as various configurations of RAM for data storage and FLASH memory for program storage. This includes a best-in-class full memory configuration which will allow customers to support multiple application and software protocols. Multiple peripherals enable the design of a complete wireless network with a minimum of external components.
ON Semiconductor
www.onsemi.com