Engineers can now design energy meters using one common core that meets worldwide utility standards and saves development time with the ZON™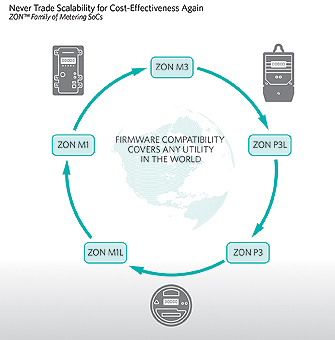 family of metering SoCs from Maxim Integrated Products, Inc.
Electricity meter standards vary around the world and utility companies require different types of meters to meet customer and regional needs, so it is no surprise that meter manufacturers need to be flexible and react quickly when the utilities' requirements change. Meanwhile, metering IC designs today hint at flexibility by offering different memory capacities on the same chip, but changing memory size alone is not a family solution. It does not allow for meter optimization that meets evolving utility standards and models. The ZON family of metering SoCs is a genuine versatile solution because meter manufacturers can use one platform using the same firmware to optimize features and accommodate disparate customer needs.
The ZON family is comprised of two series of products to meet any configuration – M
for mono-phase (single phase) and P for poly-phase (three phase) – that have tailored options for low-end, mid-range and high-end meters. Both product series' use the same, high-accuracy 32-bit compute engine, which is separate from the meter's application microcontroller. This reduces the workload on the system core. It also lets customers port their application code from device to device to facilitate high IP reuse.
Key Advantages
• Versatile: one family of products with optimized peripherals, interfaces, and memory capacities address the needs of multiple markets and regions
• Unique compute engine: handles measurement independent of main system microcontroller, reducing design time and allowing engineers to focus on added-value development
• Highly integrated: includes temperature compensated real-time clock (RTC), touch sensors, and IR encoder/ decoder, reducing BOM cost
• Industry proven: based on reliable measurement technology that has been deployed in more than 170 million meters worldwide
Maxim Integrated
www.maximintegrated.com