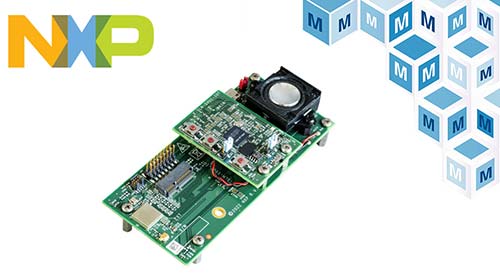 Mouser Electronics, Inc., the industry's leading New Product Introduction (NPI) distributor with the widest selection of semiconductors and electronic components™, is now stocking the SLN-SVUI-IOT EdgeReady Smart Voice UI Solution from NXP Semiconductors. Based on the RT106V crossover microcontroller (MCU) with integrated voice intelligent technology (VIT), the SLN-SVUI-IOT EdgeReady solution allows designers to add a voice user interface for touchless applications. The turnkey NXP EdgeReady solution minimizes risk, time to market, and developer effort for original equipment manufacturers, allowing them to easily add voice to smart home devices, Internet of Things (IoT) solutions, and touchless industrial applications such as smart lighting and elevators.
The NXP SLN-SVUI-IOT EdgeReady Solution, now available at Mouser, features a production-ready hardware design with fully integrated software, enabling rapid out-of-the-box evaluation and proof of concept development. Part of NXP's EdgeVerse™ edge computing platform, the SLN-SVUI-IOT solution includes a text input tool to create speech models of custom commands and wake words with no non-recurring engineering. The device's fair-field audio front-end automatic speech recognition supports 360° far-field voice 65dB noise at distances of three meters or less. The SLN-SVUI-IOT EdgeReady Smart Voice UI Solution also features advanced multimedia for an enhanced human-machine interface and graphical user interface, including a 2D graphics acceleration engine, an LCD display controller, and three I2S digital microphones for high-performance, multi-channel audio. The smart voice UI solution also offers extensive external memory interface options, including eMMC, NAND, QuadSPI NOR Flash, and parallel NOR Flash. This EdgeReady solution performs all voice recognition processing entirely offline, helping to eliminate engineer concerns about using the cloud because of privacy and latency issues.
The SLN-SVUI-IOT is part of NXP's series of MCU-based Turnkey IoT Solutions. The turnkey IoT solutions leverage NXP's i.MX RT Crossover Processors to quickly and efficiently implement facial recognition and voice control into application designs. The MCU-based IoT solutions offer fast response times with low latency to support applications, including industrial automation, smart appliances, room air conditioners, and POS terminals.
To learn more about the NXP SLN-SVUI-IOT EdgeReady Smart Voice UI Solution, visit https://www.mouser.com/new/nxp-semiconductors/nxp-sln-svui-iot-solution/.