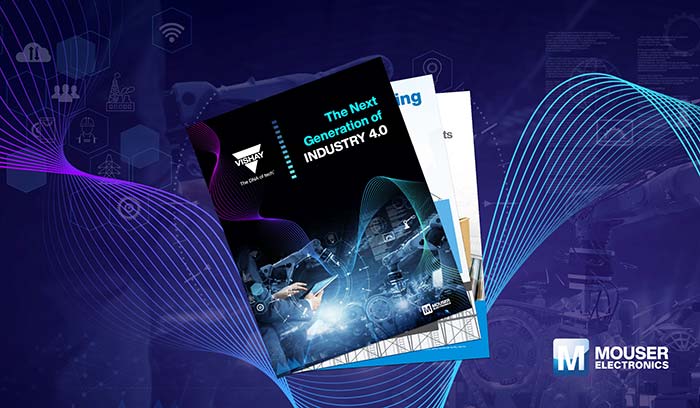 Mouser Electronics, Inc., the authorised global distributor with the newest electronic components and industrial automation products, has released a new eBook in collaboration with Vishay, analysing the technologies and components supporting the next generation of Industry 4.0 solutions.
In The Next Generation of Industry 4.0, Vishay and Mouser dive deep into the wave of automation revolutionizing factories worldwide, as well as the critical solutions making it possible. The eBook features four detailed articles on digital components enabling the next-generation of manufacturing applications, as well as a helpful infographic looking forward to the future with Industry 5.0. Article topics include Internet of Things (IoT) sensors, electronic switches, optical control panels, and current sense solutions in GaN DC-DC converters.
Industry 4.0 is the result of significant advancements in technologies, including cloud computing, artificial intelligence, machine-to-machine communication, and the IoT. This technology revolution allows manufacturers to automate repetitive processes, including monitoring and communications, reducing the need for human involvement in diagnostics and problem-solving. As Industry 5.0 brings together the strengths of human intuition and machine efficiency, Vishay's advanced collection of components and sensors will support the next generation of solutions for industrial automation.
The new eBook includes links to nine relevant products from Vishay, including the VCNL4200 proximity and ambient light sensor, which can be used for proximity detection in industrial actuation applications, such as turning off a display when no one is present, reducing power consumption. The Vishay IHLP-7575GZ-5A and IHLP-7575GZ-51 fixed inductors can be used for DC/DC power applications for computers, displays, and commercial LED lighting. They are also ideal for hybrid cars and low-speed electrical vehicles based on 48 V systems. The hybrid storage 196 HVC ENYCAP™ capacitors can be used to store energy, providing backup power for battery-operated applications or as a storage device for energy harvesting. Vishay's high-performance components support a range of industrial applications, including power support, proximity sensing and DC/DC conversion.
Vishay's range of products, available from Mouser, includes resistors, capacitors, sensors, and semiconductors. To learn more about Vishay, visit https://eu.mouser.com/manufacturer/vishay/.
To read The Next Generation of Industry 4.0 eBook, visit https://resources.mouser.com/explore-all/the-next-generation-of-industry-4-0/.
To browse all of Mouser's eBooks, visit https://resources.mouser.com/manufacturer-ebooks/.