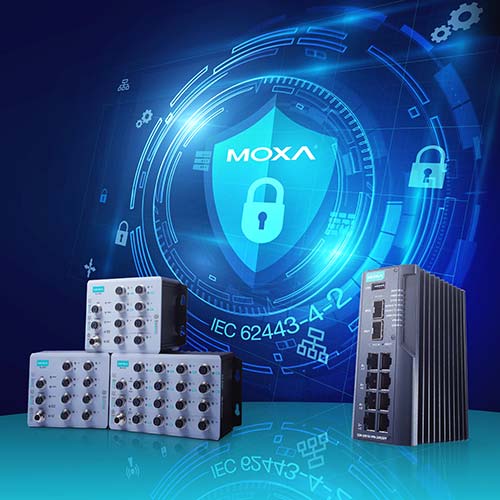 Moxa Inc., a leader in industrial communication and networking focusing on securing industrial networks, is thrilled to announce that the company has achieved the world's first IEC 62443-4-2 Security Level 2 (SL2) certification[1] for industrial secure routers. This coveted certification was awarded to Moxa's flagship industrial secure routers, the EDR-G9010 and TN-4900 Series.
"We are delighted to extend our congratulations to the Moxa industrial router team for their successful attainment of IEC 62443-4-2 Security Level 2 certification for their TN-4900 and EDR-G9010 Series industrial secure routers as the world's pioneering IEC 62443-4-2 SL2 certified secure industrial routers available in the market," said Pascal Le-Ray, general manager of Bureau Veritas (BV) CPS Technology Products Taiwan. "This certification stands as Moxa's resolute commitment to security and their distinguished position in the industrial networking market." Bureau Veritas (BV) is the global certification body that issued the IEC 62443 certification.
With this recognition, Moxa once again cements its position as a global leader in industrial networking with solutions that combine networking and OT cybersecurity with layered defense-in-depth protection. Moxa's solutions include security-hardened devices based on the IEC 62443-4-2 cybersecurity standards, OT network segmentation with threat prevention, and tailored OT deep packet inspection (DPI) realizing industrial intrusion prevention system (IPS).
"Amid escalating cyberthreats targeting industrial networks, we truly showed that security is part of the DNA of Moxa's product and solution portfolios," said Samuel Chiu, chairman of Moxa's Cybersecurity Steering Committee. "We uphold network integrity and stay at the forefront of network security by consistently putting our products through validation processes, closely following the most updated security protocols to guarantee reliable industrial-grade solutions."
The World's First IEC 62443-4-2 Certified Secure Routers Addresses Growing Cybersecurity Threats
The EDR-G9010 Series and TN-4900 Series employ the Moxa Router Operating System (MX-ROS), a software platform for industrial security routers and firewalls. The latest version, MX-ROS 3.0, provides robust security protection and user-friendly operational procedures thanks to simplified web and CLI interfaces. It also offers a wealth of cross-industry Operational Technology (OT) network management features.
With security-hardened functions based on the IEC 62443-4-2 cybersecurity standard, the EDR-G9010 and TN-4900 Series are the premier solutions in the railway and automation industries, facilitating data connectivity and offering advanced security features, such as an intrusion prevention system (IPS), intrusion detection system (IDS), and deep packet inspection (DPI), to ensure the highest level of industrial network security. As the first line of defense, these secure routers ensure stable operations, preventing threats from propagating throughout the network.
"Moxa's EDR-G9010 and TN-4900 Series have secured the world's first IEC 62443-4-2 SL 2 certification in the industrial router category, showcasing their cutting-edge security features," said Li Peng, head of Moxa Industrial Network Security Business. "We are dedicated to offering a complete and secure solution that complies with cybersecurity regulations for critical infrastructure and benefits our customers."
For more product information, please visit the product pages of EDR-9010 and TN-4900 Series.
[1] IEC 62443-4-2 Certification of EDR-9010: https://certificates.iecee.org/#/deliverables/CERT/1667679/view
IEC 62443-4-2 Certification of TN-4900 : https://certificates.iecee.org/#/deliverables/CERT/1682810/view