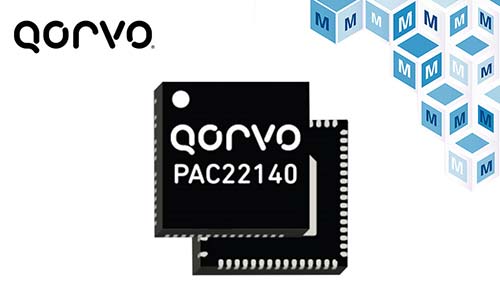 Mouser Electronics, Inc., the authorized global distributor with the newest electronic components and industrial automation products, is now stocking the PAC22140 smart battery management solution (BMS) from Qorvo. Helping to meet the need for higher cell counts in designs for users requiring more extended battery life, faster-charging power and higher performance, Qorvo has expanded its current BMS portfolio with its first single-chip Power Application Controller® (PAC) device, the PAC22140. The device supports battery packs with up to 20 cells in series (20s), leveraging Qorvo's hardware and firmware ecosystem, which can save designers more than 50 percent of their PCB space while lowering total BOM cost by 30 percent and reducing time to market.
The Qorvo PAC22140 BMS, available from Mouser Electronics, is a complete battery management solution that leverages an intelligent motor control foundation to enable cell balancing, monitoring and protection for 10s to 20s battery packs in a single device. The PAC22140 features an Arm® Cortex®-M0 and has access to several analog and digital peripherals to enable fuel-gauging algorithms and system telemetry reporting. The device integrates a Flash-programmable microcontroller, power management, current/voltage/temperature sense and drive circuits for charge/discharge FETs and protection fuses. A single supply, 145 V input buck DC/DC controller generates gate drive voltages for the external charge/discharge FETs and external FUSE FET, as well as all the sub-regulators required for the microcontroller and other sub-systems in the device. There are also high-side gate drivers on the PAC22140 for a charge and discharge protection FETs and a low-side driver for the battery-pack fuse or auxiliary function. Other device features include an integrated programmable-gain differential amplifier for wide current sense range, two 16-bit sigma-delta analog-to-digital converters (ADCs) for current sense and cell balancing and a 10-bit SAR ADC for added voltage and temperature sensing.
Additionally, the PAC22140 provides a low power hibernate mode of less than 3 µA, which delivers a long storage time with wakeup from a push button, timer or charger detection. The integrated high-voltage buck reduces thermal issues with the support of a 5 V-regulated supply of up to 225 mA, and the device's integrated 3.3 V LDO supplies up to 90 mA for the additional peripherals. The device also has a UART/SPI interface or I2C/SMBus interface for host communications.
The Qorvo PAC22140 is offered in a compact 9 mm x 9 mm, 60-pin QFN package, ideal for space-constrained designs. Target applications include garden tools, power tools, E-transportation, broad industrial battery management solutions and other compact battery-monitoring uses.
To learn more about the Qorvo PAC22140 Smart Battery Management Solution, visit https://www.mouser.com/new/qorvo/qorvo-pac22140-smart-bms/.